What you will learn in this post:
Founded by Joe Gerlach in 2011, Korova Edibles touts its "unrivaled potency" on every item, just above an ingredient list that reads like something your grandmother would have crafted with loving hands. Flour, brown sugar, chocolate chips, eggs, chocolate pudding…and of course cannabutter. You'll find no unpronounceable items or questionable ingredients here. It looks and smells just like grandma used to make, well almost.
Gerlach, who grew up in a family that loved to bake, created the company when he realized how many cancer patients, and others living with similarly severe conditions, didn't have access to products with a strong enough potency to accommodate their needs. For many, the strongest dose available was an ineffective 10mg, the current edible content limit in places like Colorado, aimed at reducing accidental pediatric ingestion.
Gerlach joined forces with Ashley Goldsberry to create Korova, a company that built upon the core philosophy of helping people. In conversation with Debby Goldsberry for Dope Magazine, Ashley said that every single employee at Korova focuses on the person "who the product is helping."
The Korova Dose Amount
Korova edibles are some of the strongest on the market, ranging in THC count from 150mg to a whopping 1,000mg of THC, and that can mean the difference between getting the medication a patient needs, or not at all. Rachel M. said her mother, who is currently undergoing chemotherapy sometimes can't stomach the large amount she'd have to eat of other products, but can "peck" at one of Korova's Black Bars, consuming "just little bits, every now and then, and she gets enough. Otherwise, she wouldn't get enough to help her."
All items are created around a standardized 50mg "dose" of THC to make it easier for the consumer to calculate their desired amount correctly. For example, Korova's chocolate chip cookie contains 150mg of THC, or 3 doses.
Marta M. of Oxnard thinks that's their "greatest" benefit. "I get 20 doses from the Black Bar. At $40, that's two bucks a dose. I'm on benefits. I can't afford some of the higher priced stuff. And the bar lasts me two months." For patients struggling to make ends meet, the cost per gram ratio of Korova's Black Bar is the "best bang for your buck." She added, "I get money left over for food, and because of the bar I can actually eat it."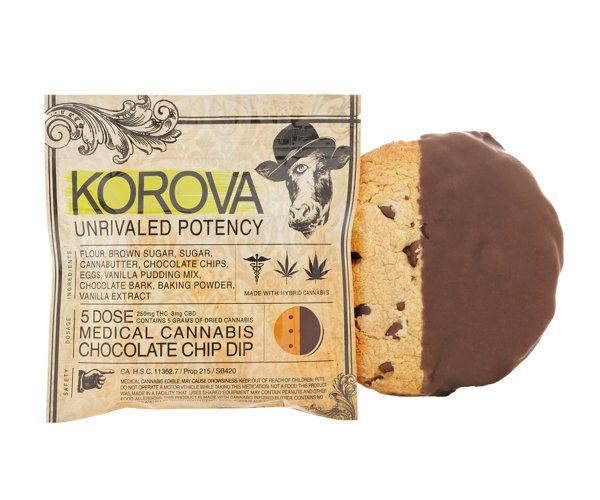 Korova Edibles Flavors & Ingredients
Not sure which Korova product to start with? Check out these options.
1. Products in the 150mg range include the Chocolate Chip Cookie that earned SF High Times' 2nd place for 'Best Edible' in 2013, and a 'decadent' Triple Chocolate Brownie.
2. Dipped cookies – hand crafted and half-dipped – come in flavors such as the Chocolate Chip Dip, Peanut Butter Dip, and Mint Dip and deliver 250mg of THC.
3. Vegan? Gluten Intolerant? Korova has you covered with their 6-dose Organic Peanut Butter Bar (300mg THC) made from organic peanut butter, gluten-free oats, vegan chocolate coating, cannabis infused coconut oil and agave syrup.
If you're a vegan cannabis consumer, you must read: Six Vegan Marijuana Edibles You Should Try
4. The Fifty One Fifty Bar, which is really one of their award-winning chocolate chip cookies that has been baked directly on top of one of their triple chocolate brownies, comes with a hefty 500mg dose.
5. And their (in)famous Black Bar, the most potent edible on the market – ideal for those with extreme pain and/ or high THC tolerance – tops the chart at a powerful 1,000 mg.
6. Not into baked goods? Don't despair; you can get nearly 300mg THC from their White Cheddar Popcorn.
While all of the Korova edibles carry an identifiable cannabis flavor, it doesn't overpower the home-made taste and texture of the baked goods. And their moist, triple chocolate brownie pairs exceptionally well with a big glass of ice-cold milk!
For optimal freshness refrigeration is recommended as it can increase the shelf-life for up to three months. And as always, it is recommended that you start with a small amount until you are familiar with the effects, particularly when dealing with higher dose edibles. (10mg is a typically recommended 'starter' dose for those who have not tried edibles previously).
The Korova Edibles Difference
In a one-on-one interview with a sales manager from the company, we were lucky enough to learn more about what goes on behind the scenes at Korova. Most notably, they take lab-testing their products very seriously. So seriously that they've been recognized by CW Analytical's "quality-tested program."
But what exactly does that mean?
We were surprised to find out that by being part of CW's program, Korova actually undergoes kitchen walk-throughs and random batch testing for microbiological contaminants, performed by professional laboratory teams. Quite impressive if you ask us.
Also, the company takes pride in supplying cannabis consumers with specific nutritional information for each item they ingest, which can be found cleanly-labeled on every package.
Finally, the company knew it couldn't just be recognized for having high-potency products, since "unrivaled potency" is usually associated with unrivaled cannabis taste (and not in the good way). That's why their certified kitchen is managed by a professional pastry chef!
Korova Testimonials
"I didn't get very foggy. I didn't lose much of my attention span or get any other side effects. I just had pain relief, relaxation, and no anxiety for a very long time. I think it lasted around 8 hours before I felt sober again." –Corry
"The high was a good mix of physical relaxation and a comfortable pain free feeling for hours." –Josh
"KOROVA Edibles Peanut butter dipped, Peanut butter cookie is the best edible that I have ever eaten, to date." –Randall
Where to Buy Korova Edibles
While we love sharing awesome content on our blog to help cannabis patients better understand the plant they love, we're also pioneering the way for easy, quick, and professional cannabis delivery.
Nugg lets you find and order delivery online from local cannabis dispensaries in more than 60 California cities, including San Francisco, Los Angeles, and San Diego. Think of it like GrubHub for cannabis. It's free to use, every order is backed by 24/7 Customer Service, and you can choose from thousands of marijuana products across hundreds of dispensary menus.
Just click the button below to begin your search!