What's the EdiPure Brand All About?
EdiPure is among the oldest, largest, and most highly respected edibles brands out there, and for good reason. Unlike nearly every one of its competitors, EdiPure infuses each edible with precise doses of THC and lab-tests every product for quality, taking the guesswork out of regulating your patient experience (and making the most out of your medicine).
EdiPure edibles come in dozens of shapes, sizes, and of course, flavors, from sugarcoated gummy bears to old-school rock candies and chocolate chip cookies. If you're seeking something a bit less luxurious, worry not; the brand also carries THC-infused nut clusters and dried fruits that you can toss in your trail mix for your next outdoor adventure.
EdiPure edibles are highly effective at managing insomnia, chronic pain conditions, and symptoms of anxiety and depression. They also come in a range of doses, making them ideal for both beginner and seasoned patients.
Laboratory Tested THC-Infused Edibles
EdiPure's medicinal edible products are infused with THC that's derived from lab-grade reagents and extraction methods, then "prepared" so that they can be infused into a host of edible products with exact THC dosing and no resulting cannabis taste.
Minimal Cannabis Taste
EdiPure uses a proprietary approach for the infusion of THC into its products. Their extraction and "preparation" methods allow them to infuse a host of edible products, whether it's Strawberry Rainbow Belts, Cinnamon Drops or Cupcakes. On the company's about page you'll find a claim that reads, "EdiPure edibles produce no dirt-of-the-Earth, plant-y after taste like so many THC-infused edibles on the market today."
Precise THC Dosing
All edibles and extracts begin their lives as marijuana "flower," the budding, smokable version of marijuana. From there, EdiPure uses a safe and proven extraction process that screens the flower trimmings and buds, strips THC crystals from the plant, and creates THC-rich titrates that resemble oil. Next the oil-like titrations are heated to activate the concentrated THC. Like burning marijuana flower with a flame, heating the titrations allows edible consumers to feel the "high" of activated THC.
A second round of intense heating rids the mixture of contaminants, and releases any remaining water. The resulting mixture is the pure 'EdiPure Elixir' that is later precisely infused into every EdiPure edible product.
The Real Difference?
EdiPure employs the industry's first 3-day infusion process, guaranteeing that extra bit of TLC in every product to ensure the highest quality. That way, each edible is devoid of any contaminants and accurate dosage and potency are consistently achieved.
In fact, that's what EdiPure seems to pride itself on most. They reassure, "At the very least, the dosage will remain constant from one batch of delicious candies to the next." The company's mission is to offer cannabis patients a responsible way to learn about the effects of medical marijuana edibles on their own bodies, and adjust their dose accordingly in a safe and consistent way.
Sounds All Good, But Is It?
EdiPure recently voluntarily recalled its products in Colorado for the fourth time. The company has now recalled over 63,000 individual packages, due mostly in part to its products containing banned pesticides like myclobutanil and etoxazole.
After the company's third recall, EdiPure criticized Gobi Analytical–the private testing lab contracted by the city of Denver–claiming its methodology to be "dubious at best, relying more on voodoo math and junk science than certified and standard scientific methods."
Gobi responded by saying it uses "the most widely used technique to detect and quantify pesticides in plant and food products. This technique is the standard method for determining pesticide residues in the United States and Europe.
The Best Damn Marijuana Gummies Around
Marijuana gummies are some of the heaviest-hitting MMJ products available, despite their small size. Their effects come on slow and peak around 30 minutes to 2 hours after ingestion, lasting three or more hours depending on the dosage.
If you're looking for a full evening of relief from insomnia or chronic pain, gummies may be for you. If not, you'll still find them effective for relieving nausea, cramps, headaches, and good old-fashioned stress and anxiety.
Because of their anonymity, marijuana gummies can be consumed on-the-go, regardless of where you are, making them ideal for medicating while in public or during long commutes.
Patients new to edibles should start out with doses in increments of 10mg, waiting 1 to 3 hours in between to ensure proper dosage. For patients looking for deeper physical relaxation, gummies and other edibles are ideal vehicles for CBD, THC's more physically-acting counterpart.
Here's a few of the THC-infused gummies in the EdiPure line of products.
1. Sweet 'n' Sour Gummies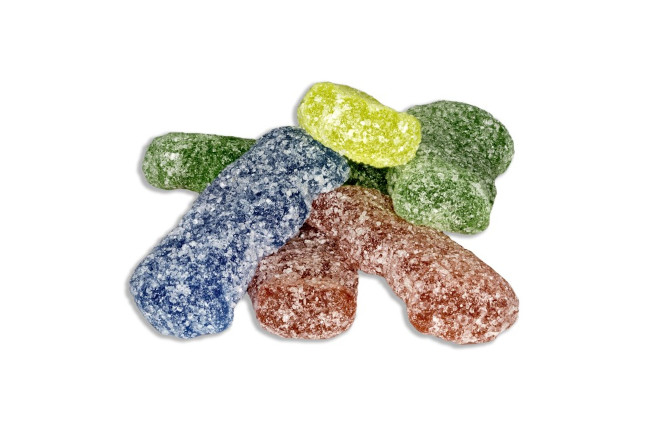 Chewy, tart, and covered in sugary crystals, EdiPure's Sweet 'n' Sour Gummies deliver a one-two punch of flavors that will keep you coming back (and yes, each color has a unique taste).
These gummies are great for those looking to mask the traditional "cannabis taste" that you'll find in many edibles, and perfect for those seeking hours of relief with just a single dose.
Users have found EdiPure's Sweet 'n' Sour Gummies highly effective before bed for a restful sleep, while also being helpful for relief of anxiety, muscle spasms, and nerve pain.
California Medical Dosage:
100mg THC: 10/10mg Pieces
250mg THC: 25/10mg Pieces
50mg Full Plant CBD: 10/5mg Pieces
Ingredients:
Corn Syrup, Sugar, Modified Corn Starch, Tartaric Acid, Citric Acid, Artificital Flavors, Titanium Dioxide Yellow 5, Blue 1, Red 40. Contains: Standardized MMJ Extract (All Organic C02 Elixir)
2. Raspberry Jellies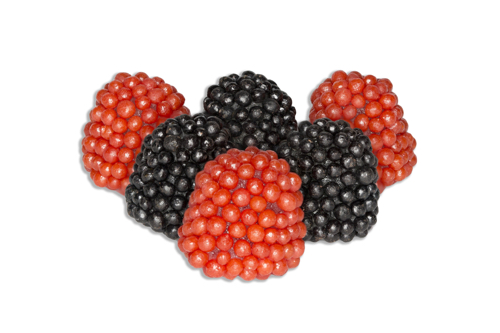 These Raspberry Jellies taste almost identical to the those you remember as a kid, only with the potent, long-lasting effects that make them an industry favorite. Unlike most other EdiPure products, the jellies aren't the least bit sour, but instead offer a fantastic, fruity aftertaste and a melt-in-your-mouth texture.
Patients report that the jellies are ideal for physical relaxation, getting more restful sleep, and achieving that feeling of euphoria for which the brand has become known.
California Medical Dosage:
100mg THC: 10/10mg Pieces
250mg THC: 25/10mg Pieces
50mg Full Plant CBD: 10/5mg Pieces
Ingredients:
Corn Syrup, Sugar, Caramel Color, Red 40, Agar-agar, Artificial & Natural Flavors, Beeswax coating. Contains: Standardized MMJ Extract (All Organic C02 Elixir)
3. CBD Watermelon Tarts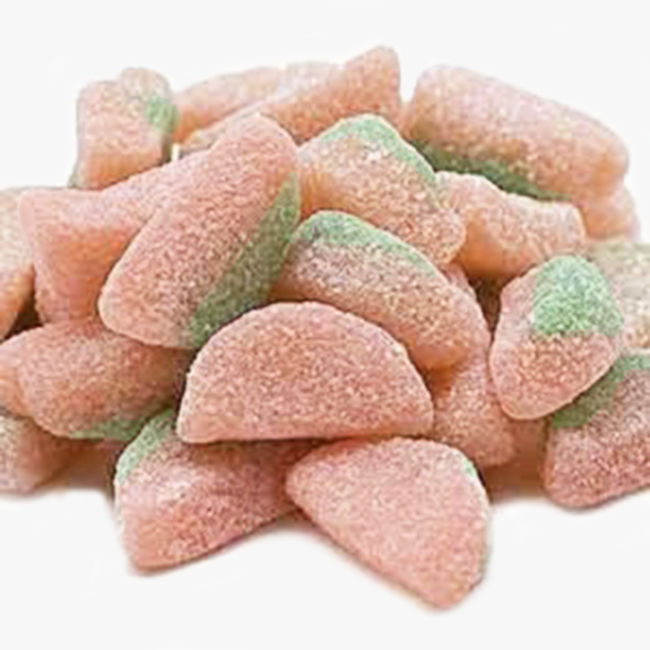 Fresh, bitter, and packed with tangy sour powder, these gummies will hit you with a flavor punch before mellowing down into hours of relief. Widely considered to be one of EdiPure's most potent products, these edible CBD watermelon tarts are also among their most nostalgic.
As the name suggests, they bring out the more laid-back, body-relaxing sensations of the MMJ. According to their users, they're great for muscle spasms, regaining lost sleep, and working up an appetite (in this case, it's okay to eat your dessert first).
California Medical Dosage:
100mg THC: 10/10mg Pieces
250mg THC: 25/10mg Pieces
50mg Full Plant CBD: 10/5mg Pieces
Ingredients:
Sugar, Sugar Invert, Corn Syrup, Corn Starch Modified, Citric Acid, Tartaric Acid, Flavor(S) Natural & Artificial, Titanium Dioxide, Red 40, Yellow 5, Blue 1, Standardized Marijuana Extract.
4. Organix Cherry Loves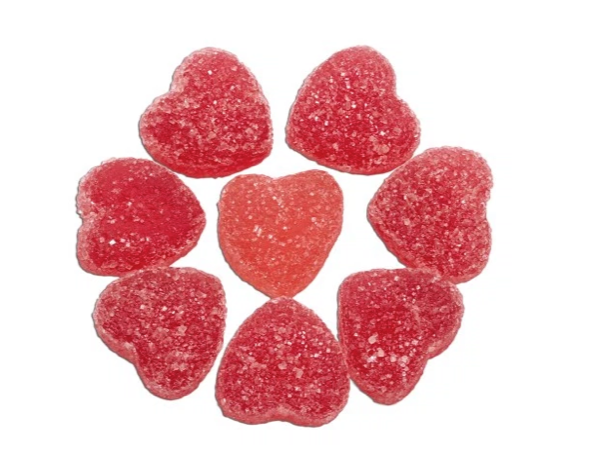 Ready to fall in love? Wait no further. Drizzled in just enough sugary goodness and filled to the brim with organic cherry flavors, EdiPure's Organix Cherry Loves melt in your mouth for hours of steady relief. Because they're on the lighter end of the THC spectrum, these candies are great for easing yourself in to deeper and deeper states of relaxation, or for new patients who may not yet be familiar with their personal edibles dosage.
Many patients find these gummy hearts helpful for inspiring creativity, gaining focus, and getting work done, while others report they're perfect for light relief that won't sink you into the couch. These gummies may not be a cure for heartbreak, but they may just be the beginning of a beautiful new relationship.
California Medical Dosage:
100mg THC: 20/5mg Pieces
250mg THC: 50/5mg Pieces
Ingredients:
Organic Sugar, Organic Tapioca Syrup, Organic Grape Juice Concentrate, Pectin, Citric Acid, Ascorbic Acid, Natural Flavors, Black Carrot Juice Concentrate Packaged in the same facility as peanuts, tree nuts, wheat, soy, and milk products, Standardized Marijuana Extract.
5. Glow Worms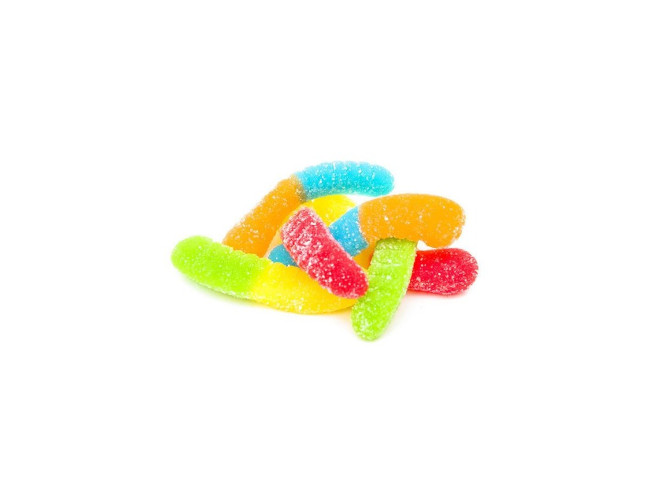 These sour-dusted neon gummies just might worm their ways right into your list of top afternoon snacks. Wriggling with wild fruit flavors and decadent sweetness, EdiPure's Glow Worms are just about as flavor-packed as they come.
Users rank these gummies among the top picks for those looking to satisfy a sweet tooth while covering up any lingering cannabis taste. They're also excellent at providing relief from muscle spasms, stress, depression, and headaches.
California Medical Dosage:
100mg THC: 10/10mg Pieces
250mg THC: 25/10mg Pieces
500mg THC: 50/10mg Pieces
50mg Full Plant CBD: 10/5mg Pieces
Ingredients:
Corn Syrup, Sugar, Gelatin, Lactic Acid, Citric Acid, Natural And Artificial Flavors, Pectin, Sorbitol, Fumaric Acid, Titanium Dioxide, FD&C Yellow #5, Yellow #6, Blue #1, Red #40, Standardized Marijuana Extract.
What Do Real Customers Have to Say About EdiPure?
"EdiPure is wonderful product! Not only does the candy taste great and visually appealing but, the dosage is spot on! The 10mg is the perfect dosage for someone that is just starting to eat Medical Marijuana. EdiPure also comes in 25mg – this is great for Patients with a higher tolerance level. We, by far, sell more EdiPure than any other edible on the shelf. I have never had a problem with the company, my orders are always correct and on time. Jeremy has always been attentive and friendly. In conclusion I would have a hard time saying anything negative EdiPure!" –Allie S.
"We at The Health Center love EdiPure. It is great for customers both new and old in particular because of how good it tastes and how easy it is to dose out your medication with the smaller sized dosages. EdiPure is also a great company to do business with as they are very responsive and quick to deliver – two things that are hard to find in the industry at times." –Coley
Where to Buy EdiPure Edibles?
While we love sharing awesome content to help cannabis patients better understand the plant they love, we're also pioneering the way for easy and professional cannabis delivery with all the perks of huge-selection.
Nugg lets you find and order delivery online from local cannabis dispensaries in more than 60 California cities, including San Francisco, Los Angeles, and San Diego. Think of it like GrubHub for cannabis. It's free to use, every order is backed by 24/7 Customer Service, and you can choose from thousands of marijuana products across hundreds of dispensary menus.
Just click the button below to begin your search!