We get it, Lil Wayne is your spirit animal and you totally want to get your "lean" on (legally). Luckily for us medical marijuana patients, we're living through a revolutionary time in the history of cannabis innovation and science—a point proven by the creation of hemp and marijuana CBD syrups.
They're growing in popularity, especially with young consumers, by replacing a similar but dangerous drink, the codeine mixture lean (a.k.a. sizzurp or purple drank).
Haven't heard of THC or CBD syrup?
Keep scrolling to learn more about this fascinating cannabis incarnation, including the different types of syrups, how they became popular, where to get them, the difference between hemp and cannabis CBD, and more!
CBD Syrup: A New Way to Find Relief
CBD products like syrups are a new, easy, and incognito way to get "crunk" (by crunk we mean medicinal relief). They're therapeutic, medicinal, non-lethal and contain little to no adverse side effects for a majority of consumers.
As simple, natural cannabis and/or hemp derived mixtures, CBD syrups are often used by consumers in an attempt to find relief from a myriad of problems and conditions like insomnia, inflammation, joint and muscle pains, seizures, anxiety, and opiate withdrawal (including from substances like codeine, used in the original, non-CBD "lean").
How is CBD syrup typically consumed?
Simply pour the desired dose into your beverage of choice, usually a fruity-flavored carbonated soda like Sprite or Fanta, add some ice (or even a Jolly Rancher for extra flavor), mix it up a bit, and enjoy.
While most patients prefer using this diluted method as the easiest method of consumption, others simply ingest the non-psychoactive syrup as you would any liquid medicine.
A Healthier Alternative to Lean
This mixing method for CBD syrup is similar to "lean", also known as sizzurp or purple drank, popularized by rappers like Lil Wayne, A$AP Ferg, and Three 6 Mafia, whose hit "Sippin on Some Sizzurp" made the drink more publicly known and socially acceptable.
Except where "lean" is made with codeine - an addictive opioid that can result in a potentially deadly overdose - CBD syrup is made with natural cannabidiol, a non-psychoactive cannabinoid found in cannabis and hemp.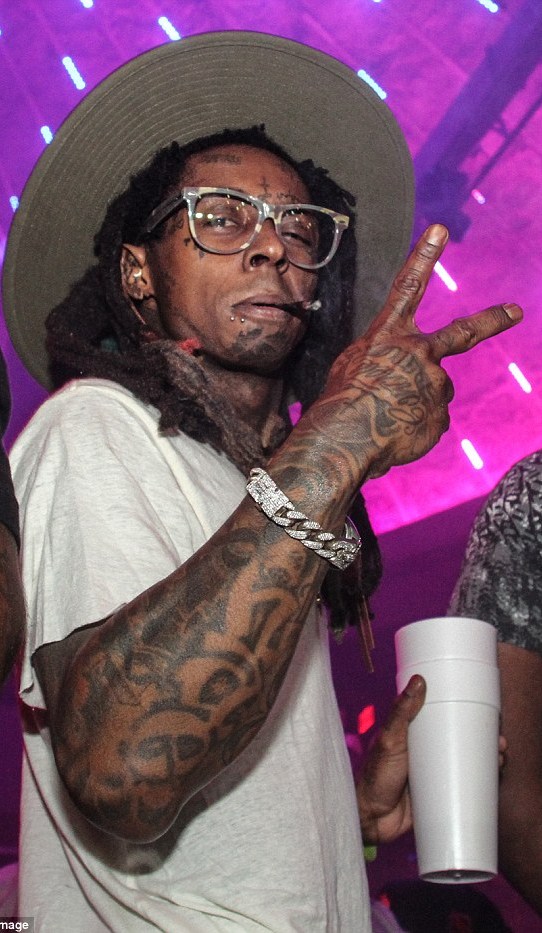 While CBD syrup won't result in the intoxicating effects of "lean", and THC syrup is tamer than the illicit version that uses promethazine codeine, the two cannabis-derived options offer consumers a safer, less addictive alternative.
Lil Wayne himself has been hospitalized multiple times from drinking too much codeine-concocted purple drank, and he's been lucky worse hasn't happened. DJ Screw, the Houston, Texas DJ/producer known for his pioneering "Chopped & Screwed" method of slowing down and mixing hip-hop tracks, died of a codeine overdose due to mixing lean with valium and PCP.
CBD is often considered one of the most harmless substances available to everyday consumers, while lean has been linked to numerous hospitalizations and deaths.
With sizzurp's decreasing popularity, CBD hemp syrups have come along to fill the void. These healthier alternatives are quickly gaining momentum, especially among the hip-hop community as a much safer option while still providing the same familiar ingestion method, and some of the sedating, calming effects.
This notion isn't lost on the companies that produce CBD syrups.
Instead of just marketing their products purely as a medicinal syrups like Robitussin, brands like Cloud N9ne are capitalizing on this void left by lean, enlisting rapper Redman, a notorious marijuana enthusiast, as a celebrity endorser.
Even Actabliss has teamed up with rapper Riff Raff in a promotional contest to find who can design the most flamboyant and original cup from which to sip your "CBD lean".
What's Hot in CBD Syrups
Cannabis CBD syrups and liquid THC drinks are highly popular and can be found in almost any medical marijuana dispensary. But not all brands offer the same quality, variety, or name-recognition. Some of the more popular brand name hemp and weed lean syrups include: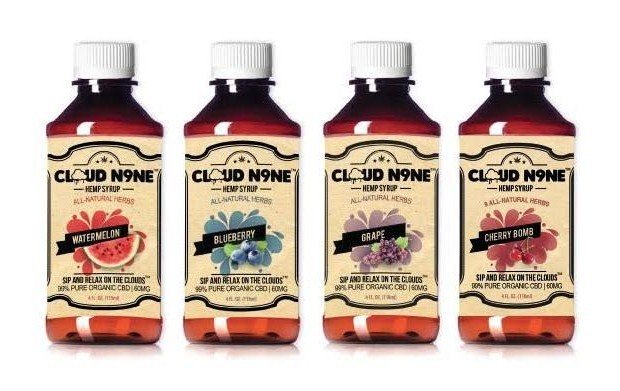 Of these five, Cloud N9ne has become one of the most popular brands turning out CBD lean syrup. This is partly because the drink has no THC. In fact, it doesn't even have a CBD dose to classify it as medical cannabis, making it legally available if you're at least 18.
Featuring colorful flavors like watermelon, blueberry, grape and cherry, Cloud N9ne's infused syrups are often touted by consumers for their anxiety, insomnia, and pain relief. Derived from hemp - and thus lacking the benefits of the entourage effect - Cloud N9ne syrups can't promise the same level of effects as a true, cannabis-derived CBD drink would.
The company calls it a "hemp syrup," with about 64mg of hemp CBD in each bottle. It also lists CBD-dominant strains AC/DC and Charlotte's Web (created by crossbreeding with hemp) as ingredients, along with nine powerful, all-natural herbs.
So how does Cloud N9ne produce its relaxing effects while seemingly lacking the potency to do it?
CBD is still available in hemp, and many consumers use cannabidiol as a relaxation aid. It's also possible that CBD syrup provides a placebo effect, to a certain degree. After all, the method of mixing and consumption, and even the flavor, can be very similar to that of the original "lean".
CBD vs. THC Syrups
Cannabis products richer in CBD, a cannabinoid found in all cannabis, are generally more calming and relaxing than THC and have been linked to a wide range of medical benefits without the heavy "stoned" sensation commonly associated with THC.
Indeed, there are some legitimate, high-CBD syrups out there on the market in states where medical cannabis is legal, and which claim to afford users the full benefits of CBD. Of course, you'll need a recommendation from a medical cannabis doctor if you hope to purchase such products legally.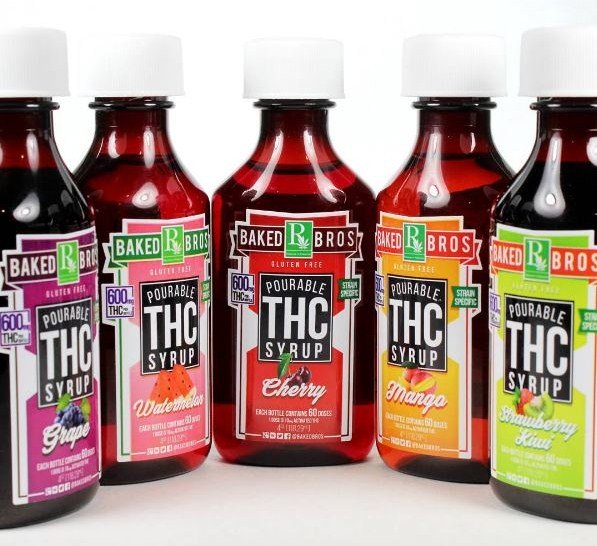 For those seeking a cannabis syrup with the well-known psychoactive effects of THC, THC-infused syrups and drinks are becoming just as common as their CBD counterparts.
Companies like Baked Bros, winners of High Times' Cannabis Cup and many other awards, are making high-quality pourable weed syrups that will surely spice up your sodas and leave you leaning. Their 300mg and 600mg bottles are available in grape, cherry, strawberry kiwi, mango, and watermelon flavors.
But be careful with those kind of dose amounts! Even 300mg THC is enough to lock the most seasoned cannabis vet to the couch.
Some of these syrup products, like the marijuana they are derived from, contain a mixture of CBD and THC. Different ratios of each will provide different effects, so it's best to experiment in small doses with each until you find what works for you.
Another common emerging product, liquid THC/CBD drinks, are similar in that they combine hemp-derived CBD or THC oil with a beverage. Drinks like Venice Cookie Co.'s "Cannabis Quenchers" are vegan/gluten-free and claim to provide heavy pain relief. They're available in THC and CBD with a variety of ten complex flavors, including CBD mango.
If you decide to try the THC products, make sure you do so responsibly. If you do dabble and find you have a drug test coming up, here are a few quick tips on how to pass a drug test, too. If you already know you have one coming up, your safest option is to stick with CBD-only products.
Where Can You Buy CBD Syrup?
Where is Cloud N9ne syrup for sale? How much does it cost?
On average, a 4 oz bottle of CBD syrup will cost you $30-40. But remember, these hemp-only CBD drinks aren't what you'll find on cannabis dispensary shelves. In fact, you're more likely to find them on the shelves of your nearest grocery store.
If you are looking for real, cannabis-derived CBD products, the best place to locate CBD syrup is at legal cannabis dispensaries in your area, in states where cannabis-derived syrups are available.
If you're looking for an even easier way to get your hands on CBD and THC syrups (and you live in California), you can order delivery from a wide selection of cannabis dispensaries online at getnugg.com.
How Much Should I Drink?
Remember, dosage depends on the type of CBD you're taking. If it's a hemp CBD syrup like Cloud N9ne, you don't need to worry about THC (but should be aware of other ingredients intended to produce similar effects).
If you're trying a syrup that has THC like Actabliss, it's best to start slow and low then work your way up from there. THC edibles and drinks can hit hard and last longer than smoked cannabis products.
We also advise you do some research in advance, and always pay attention to how many milligrams of CBD and/or THC a product contains. Read product reviews online, ask your friends, consult with the budtender taking your order (whether it be through an online delivery platform like Nugg or at a storefront dispensary), or even go so far as to ask your primary physician what he or she thinks.
Of course, talking to your doctor about cannabis can be intimidating for many of us, which is why NuggMD allows you to safely connect with a licensed, pro-cannabis doctor online to get your medical marijuana recommendation.
The evaluation process offers you an opportunity to ask a friendly and knowledgeable MMJ doctor any and all questions you might have related to using medical cannabis to treat your stress, anxiety, and any other problems!
Testimonials
"I like how [CBD syrup] isn't a drug, although I was still expecting it to feel more like a high. It serves its purpose and it is a very relaxing and euphoric experience, and in its own bracket it's flawless. It's not what I expected but it's definitely worth a try." —James D.
"I was skeptical at first, but saw so much hype on [Cloud N9ne's] twitter account from people saying they love it, I gave it a try. I'm glad I did. Not only does it taste good, I was super relaxed and feeling good…Shockingly it seems to be working better and better for me than my prescription for anxiety. I will definitely be buying more when I run out!" —Nicole B.
"I'm a long time customer of [CBD] syrup. I have COPD which happens to be a respiratory disease…[it] has in fact helped with relief of pressure as I live with a feeling of a rubber band around my chest." —Peter C.
Final Thoughts
As CBD syrups continue to grow in popularity as a legal, THC-free substitute to opiates, alcohol, high sugar energy drinks and even coffee, more brands are popping up trying to capitalize on this vacancy.
The best thing you can do as a consumer is do your research and find a brand that is transparent about their processes and aligns with your preferences and interests.