What you will learn in this post: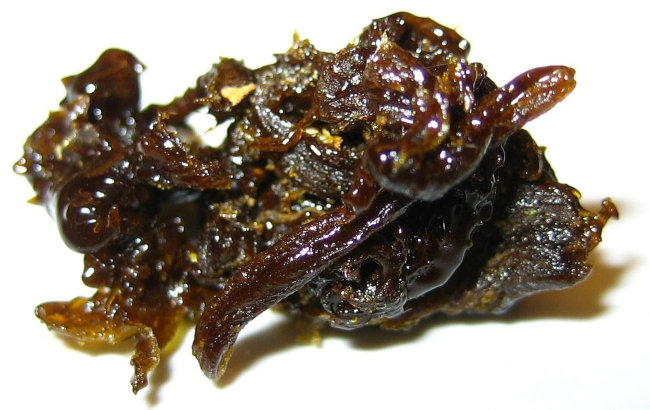 One of the strongest and most luxurious forms of hash is Jelly or Caviar hash. It's often extremely potent, and usually the most potent form of hash available. But what exactly is jelly hash? Can you make it yourself? And if so, how do you go about it? Let's get right to it.
What is Jelly Hash?
Jelly hash is a highly potent form of hash that's often a combination of bubble or water hash and hash or honey oil. It gets its name, unsurprisingly, from the jelly-like texture of the extract. Thanks to the terpenes, cannabinoids, and phytochemicals found in the kief used to make the hash and hash oil, jelly hash is a favorite for those suffering from chronic pain. It's also a popular choice of medical marijuana for chemotherapy patients.
Jelly hash's purported medical prowess, along with its remarkably high potency, makes it a very valuable and luxurious type of cannabis extract-a delicacy among the marijuana concentrates. Don't be surprised to find it being sold at much higher prices than other marijuana products.
How to Use Jelly Hash
Jelly hash can be smoked just like normal cannabis. That is, jelly hash can be consumed with a bowl or bong. If you're feeling leisurely, you can even put jelly hash in your joints. Ultimately, smoking jelly hash is no different from other forms of hash. There's nothing special you have to do, nor is there special equipment you must use for this form of hash.
However, if you'd prefer not to smoke the concentrate, you do have some other options. Jelly hash can be used in marijuana vapes. It's also possible to use jelly hash in your edibles, as it can be baked and used to make cannabutter.
How Potent is Jelly Hash?
As we mentioned, Jelly hash is made out of a combination of bubble hash and honey, or hash oil-both of which are highly potent on their own. As such, jelly hash is one of the most potent forms of hash available for marijuana users. It's also incredibly rich in the compounds that confer the most medicinal marijuana benefits- terpenes, cannabinoids, and phytochemicals.
Jelly hash, then, is often the go-to for medical marijuana patients seeking the maximum benefit from their cannabis use. Many cancer patients successfully use jelly hash to manage the pain and discomfort that come with their medical conditions and chemotherapy treatments.
How to Make Jelly Hash
Note: We do not recommend you attempt to make your own honey oil. To do so is very dangerous, and without the proper licenses and equipment, it could open you up to legal jeopardy. Instead, you should purchase it from a legal dispensary to be combined with your bubble hash.
Equipment and Ingredients Necessary:
Hash/honey oil
Unpressed, powdered bubble hash
Heat-resistant glass container
Lighter or butane blow torch
Stirring tool or spoon
1): Pour hash/honey oil into a heat-resistant glass container.
2): Heat the container's bottom with a lighter or stove on very low setting.
3): Slowly add, little by little, powdered bubble hash. Stir throughout and continue to heat the container. The ratio of hash oil to bubble hash should be between 1:6 – 1:9.
4): Continue to heat and stir until a molasses-like consistency is attained.
5): Remove the heat, and continue stirring as the jelly hash cools. Once completely cool, remove the jelly hash from the container.
6): Enjoy your jelly hash.
Warnings and Dangers
It must be remembered that marijuana, whether it be for medical use or recreational use, is not legal in every part of the United States. Many states still consider cannabis to be a Schedule 1 substance, and others require residents to be medically licensed by the state to use marijuana. Be mindful of the local laws regarding marijuana in your area, as jelly hash may be illegal to possess or use.
While jelly hash is possible to make yourself, it's still not recommended that you make your own honey oil. To do so would legally require a manufacturing license and some expensive processing equipment. Not to mention that marijuana oil manufacturing can be remarkably dangerous if not done properly. If you're looking to make your own jelly hash, it's recommended that you purchase your honey oil beforehand, rather than make it yourself.
How to Find and Buy Jelly Hash
Jelly hash may be available at your local dispensary, however, it may not be as common as other extracts. Many will offer various kinds of concentrates to their patients and customers, and jelly hash may be an option. Depending on the local laws regarding marijuana, a medical marijuana license may be needed to buy and possess jelly hash.
That about wraps it up. If you're interested in using jelly hash yourself, you may need a medical marijuana license beforehand. Using the NuggMD telemedicine platform, you'll be connected with a state-licensed marijuana doctor and have your recommendation for medicinal use in no time. So don't wait another day. Sign up with NuggMD now!