What you will learn in this post:
Men use cannabis just a bit more than women, though for a long time there weren't many products made specifically for ladies and the physical and emotional ailments we experience. Now that's quickly changing.
Women who've found success treating their medical issues with cannabis decided to share their achievements with the rest of the world. As a result, we have tons of products, many created by female-led teams, that focus on the feminine experience.
In this post we'll highlight five distinct brands and some of their female cannabis products that'll help us ladies improve our daily lives. Many women also find growing cannabis to be its own therapy. If you're interesting in growing your own bud, check out our friends at I love Growing Marijuana.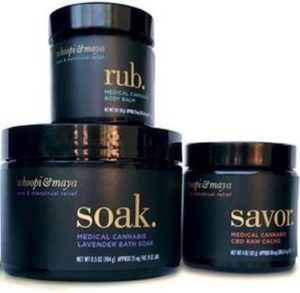 We all know EGOT winner Whoopi Goldberg, but you may not know she's also a fervent cannabis advocate, patient and ganjapreneur. She's teamed up with Maya Elisabeth, founder of the all-female collective Om Edibles, to create Whoopi & Maya, a brand that creates products exclusively by and for women.
Their first line addresses every step of a woman's monthly menstrual cycle. Let's check out a few of these female cannabis products.
There's "Soak" ($15), a cannabis-infused Epsom salt made for warm, relaxing baths. Epsom salt is made of magnesium and sulfate, which the body absorbs quickly through the colon, making it a perfect cannabis delivery system. Use this for fast relief from aches, pains, and cramps. Soak comes in three fragrances: lavender, amber woods, and fragrance free.
Craving something sweet with relief? Kill two birds with one stone with Whoopi & Maya's "Savor" (around $18) unprocessed superfood. This medicinal delicacy is made with cannabis and raw, organic cacao beans, known to lower blood pressure, enhance circulation, and improve digestion. Try their THC or CBD version for pain relief, inflammation, sleep, cramping, and irritability.
Back pain can get real during your period. Their "Rub" ($25) provides support from that pain and uterine cramps by combining cannabis, a natural painkiller, with other analgesic herbs like white willow bark, ginger, and St. John's Wort. Apply this salve all over your lower back and abdominal region.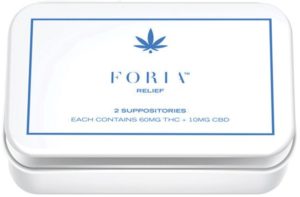 Foria received a lot of press when they released their Relief Suppositories, aka "weed tampons." Suppositories have long been a fast and effective medicinal delivery method. The brand recognized that women suffering from serious menstrual cramps and lower back pain could benefit from infused tampons. Each contains 60mg of THC and 10mg of CBD.
‍This delivery method's THC to CBD ratio allows for optimal muscle relaxation without the high—super helpful for days when your menstrual cramps would normally force you to take a sick day. Foria Relief Vaginal Suppositories come in  2-packs (usually $25) and 4-packs ($44), but are usually on sale for about $35. Definitely some of the more unique female cannabis products out there.
Looking to spice up your bedroom? Check out their Explore Suppositories for enhanced sexual activity.
Moxie Meds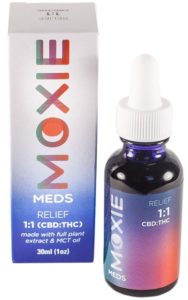 Tinctures have been used as an effective medicine for centuries, and they still provide mmj patients with relief every day.
Moxie Meds make tinctures specifically designed to provide pain relief from cramps, reduce inflammation, and calm anxiety. An added bonus? It helps with menstrual mood swings (we've all been there, ladies) by balancing hormonal cycles!
Moxie Meds' tinctures (starting at $35) are made with whole cannabis plant extract and MCT oil. You can purchase their tinctures in two variations, balanced "Relief" 1:1 CBD to THC and "Recovery" 4:1 CBD to THC.
For relieving stress, tension and mellowing those mood swings with little to no psychoactive effects, try the 4:1. You can use this tincture throughout the day without getting high.
If you're looking for quick relief for acute pain, try the equal 1:1 ratio. This has an equal amount of CBD and THC, so you may experience some pleasant psychoactive effects.
‍Tinctures can be added to practically any drink—tea, juice, coffee, water—and work great. But if you want even faster, more effective results, take a sublingual (under your tongue) dose and hold it for a minute or two before swallowing.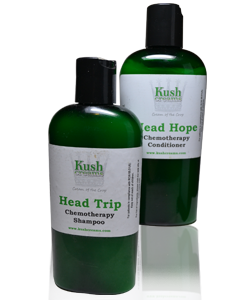 Kush Creams is an award-winning brand focusing on topical cannabis applications. Infusing emu oil, known for its striking ability to deeply penetrate the skin's top layer, with weed, the company has created a line of unisex and female cannabis products that delivers fast, thorough relief to those who need it most.
Unlike many available cannabis topicals that just sit atop your skin without really soaking in, you can re-apply additional layers to increase your dose. Their line of creams address a wide variety of ailments, from bug bites and burn care to arthritis and fibromyalgia.
For mmj patients going through chemotherapy, Kush Creams has expanded their line to include Chemotherapy "Head Trip Shampoo and "Head Hope" conditioner(both $16) that provide scalp relief and promote hair growth. But it's not just for chemo patients. A product reviewer, whose hair was falling out from stress, said the shampoo has helped her hair grow back healthy and strong.
One of the best parts about cannabis (and there are so many) is its anti-inflammatory properties. Kush Creams harnessed this knowledge to create an aloe-based eye cream/face moisturizer ($40) that reduces fine lines, wrinkles, and helps prevent acne outbreaks.
There are also non-cannabis options available for shipping worldwide!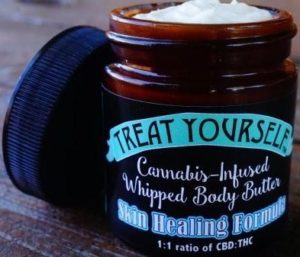 This lady-led brand makes high quality, organic products for all cannabis consumers but with women specifically in mind. Treat Yourself's cannabis infused whipped body butter is made with CBD, THC, and high quality, organic ingredients.
Try their Skin Healing Formula ($30) with organic ingredients like mango butter, coconut oil, and aloe vera gel to soothe dry skin, psoriasis, sun spots, and other irritants. For pain relief, use the Pain Relieving Formula ($30). It's made from vitamin E, peppermint and tamanu oil and, with a 1:2 CBD to THC ratio, is ideal for easing soreness, menstrual cramps, arthritis, and general joint pain.
Take advantage of all these wonderful product innovations from entrepreneurs making female cannabis products with their fellow sex in mind. It's about time us ladies had natural options for relief from menstrual cramps, emotional swings, chronic pain, and more. Now we finally do!