I'll let you in on a little secret: not all hype in life is deserved. In this day and age, brands can look great on social media with and still make a sub-par product. So when I hear someone describe a brand or product with near-mythical greatness, I tend to be suspicious.
It'd be an understatement to say there's a lot of hype around L.A. Kush. Their world-class, indoor-grown flower has garnered so many awards that the number, 81 and counting, sounds hyperbolic.
So when I visited their East L.A. shop (did you know the brand also has two L.A. dispensaries?) and saw this new, compliant flower behind the counter, I had to try it.
With the brand's stellar rep and eye-catching packaging, the bar is set high before I open the "Red Box." What's in the box? Gwyneth Paltrow's head? Can their flower really be as good as everyone claims? Luckily (well, for the sake of this review), my stress level is at an all-time high and my back pain is acting up, so I put this flower to the test.
Packaging, Labeling & Product Design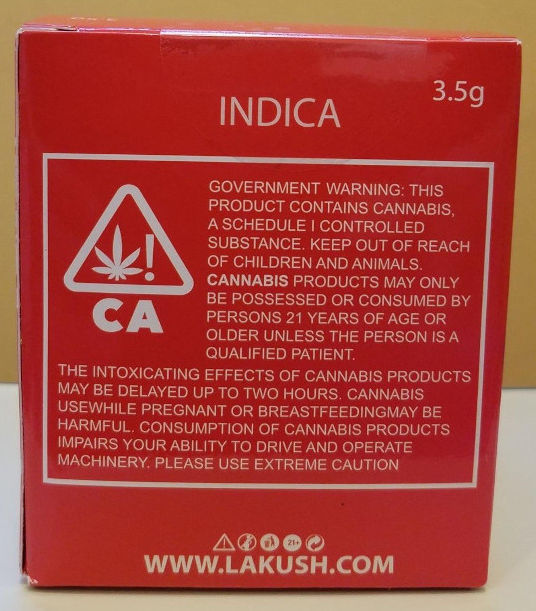 This eighth/3.5g of L.A. Kush indica flower comes housed in a glossy, cherry red cardboard box about the size of a Rubik's Cube. Right away the large white logo, featured on the top and sides against the vibrant color, catches my attention. It reminds me of an L.A. sports team's logo.
As I open the taped top marked "no seal no deal" I notice the L.A. Kush logo and website branded on the inner flaps. Then I see the top of a glass jar snug and safe thanks to a cardboard insert that looks like a cup holder.
I absolutely love this package design. I appreciate that the box is recyclable and the jar is made of glass instead of plastic! I'll always give props to brands with environmentally-minded packaging. I do wish the jar had some UV-protection and a humidity pack to make for better long-term storage.
The labeling includes everything required for compliance plus a ton of branding. The box includes a government warning, net weight of 3.5 grams, a simple "indica" designation and a label from testing lab Cannalysis that includes Delta-9 THC (8.04 mg/g), THCa (250 mg/g) and CBD (0.0 mg/g) content, test ID number, batch ID number, manufacturer, manufacturing date and expiration date, which I've never seen on jar flower.
Despite these details, it's surprising that the closest thing to strain info is simply "indica."
But of course I couldn't give you a thorough review without knowing its lineage; so I contacted L.A. Kush directly and discovered this Red Box indica is a cross between Hardcore OG and King Skywalker.
I wish this was clearly labeled somewhere, along with a QR code to check the lab report or at least the major cannabinoid and terpene percentages.
I'd also like to learn about their growing practices. There's enough space on and inside the box that there's no reason it shouldn't be utilized to provide this background information instead of having the brand name repeated a dozen times.
Quality, Ease of Use
It takes me about one second after opening this sticker-sealed jar to know I'm in for a good time. Wow! The aroma is explosive, like a wind-up toy just waiting to take off. It's exactly how I want a classic OG to smell: strong notes of pine, lemon and a woody sweetness that remind me of summer camp. I can't know for sure since it isn't on the labeling, but I have a hunch this strain has a strong terpene profile.
The entire 3.5g comes as one big, beautiful bud. As I pull it out of the jar, I feel like a magician pulling handkerchiefs from my sleeve. It just keeps coming!
This flower is absolutely pristine: glistening, frosty trichomes cover a beautiful ombré of green bud and dark orange hairs.
I already know it's going to leave a hefty, sticky coating on my fingers as I pull it apart. The beautifully formed and perfectly dense bud easily breaks down in my grinder (the moisture content was right on the money) and its stickiness makes this flower perfect for rolling into a joint. I can't help but admire everything about this bud.
As I take my first few puffs, I'm floored by the flavor. It's just like the aroma: strong, enjoyable and entices me to continue. I coughed a couple times, but otherwise a smooth smoke. If you're new to smoking cannabis, you may find this a bit harsh on the throat from the high cannabinoid concentration. And the ash is perfectly white and ashy – just what I'm looking for!
Before I know it, the joint is gone. I miss it already.
Potency, Effectiveness & Affordability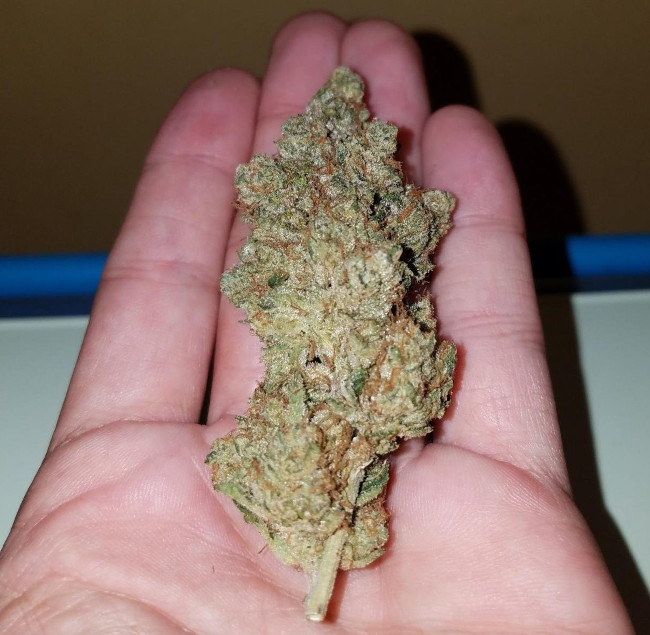 About three hits into the joint, the satisfying effects begin their journey from my head to a deep body high. I forget the stress of my day. And my back pain…what back pain? I can physically feel my mood lift, ending in a happy and relaxed state. It's the perfect level, clear-headed high to carry a conversation or focus on a movie or book with a very relaxing sensation.
It won't give you crazy couch-lock when you need to be productive. I couldn't be happier with the effectiveness and potency of this flower.
For $50 an eighth (3.5g), this is a bargain in my book considering the detailed packaging, attractive flower, and effectiveness. I've spent more for way worse quality. I'd even pay a few dollars extra if that meant including a humidity pack in the jar. Red Box is simply a wonderful strain and a new addition to my flower rotation.
Nugg Score: How the Nugg Team Rates This Product
Packaging: 4/5
Bright red cardboard box and sturdy holder within secure the glass jar/cannabis.
Packaging offers inner details and provides proper protection.
No humidity pack included; you might need one if you need long-term storage.
Labeling: 3/5
Box contains brand information, government warnings, and a sticker with Cannaysis' lab testing reports.
No info on the indica strain genetics besides "Red Box." After reaching out to LA Kush via Instagram, I found out it's a mix of Hardcore OG x King Skywalker. I wish this was on the box.
Would love to learn about LA Kush's growing practices.
QR code to see the lab report would be helpful; if not, a list of the major cannabinoid percentages and/or major terpenes.
Aroma: 5/5
Fragrance bursts out of the jar with it's piney and lemony aroma.
A deeper, sweet, woody note makes the terpene profile incredible.
Exactly what an OG strain should smell like!
Taste: 5/5
WOW! A delicious OG tastes exactly how it smells.
Piney and lemony flavor combined with a woody sweetness tasted as good on the first puff as it did on the last.
I could smoke this all day.
Texture: 5/5
Jar contained a single, long 3.5-gram nug glistening with trichomes; worth showing off.
Beautifully formed and perfectly dense.
Nice and sticky on my fingers as I broke it apart and I couldn't help but admire everything about this bud.
Quality of Smoke: 4.5/5
Slightly rough on the throat, but not very irritating.
Cannabis newbies may find this troublesome.
Ash Test: 5/5
White and soft; just what I was looking for.
Effectiveness: 5/5
Highly effective cannabis that eased my stress, back pain, and put me in a happy and relaxed state.
No flighty, anxiety-provoking effects that some OG strains can cause; offered a mellow mood with a clear head.
Overall a wonderful strain that I'll be going back to when I want KILLER weed that's worth showing off.
Consistency: 5/5
L.A. Kush always maintains consistent genetics, and well grown indoor cannabis.
Price: 4.5/5
$50 an eighth is a fair price for such high-quality indoor cannabis. I'll be buying this again!
For greater value, I'd throw in a humidity pack or cut the price a few bucks.
Overall Rating: 4.6
This Los Angeles Kush "Red Box" is the perfect indica strain for relaxing without being glued to the couch. It's aromatic, flavorful, attractive, and enjoyable all the way through. The hype is totally worth it and the brand lives up to their award-winning reputation.
I'd only want to see more detailed information included on the jar and box (terpene profile, genetic lineage, more background on the brand and growing technique) and a humidity pack. I'll be trying this again.