For thousands of years, cannabis has been used as both a medicinal treatment and a recreational drug. It was only in the past century that the recreational aspect of marijuana was outlawed (before flourishing into a new renaissance today).
In this article, we explore the difference between medical and recreational weed, in terms of available products, effects, legality, and prices.
Get Your Medical Card Online
Get approved today in minutes with the nation's #1 trusted medical card provider.
No appointment needed. Only billed if approved.
Medical vs. Recreational Weed: Definition and Purpose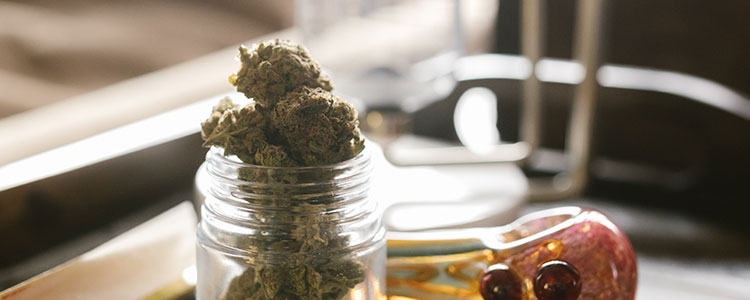 The difference between medical and recreational cannabis has to do with the distinctions in the laws each state implements when legalizing cannabis.
Medical cannabis is used to reference marijuana that is recommended by a doctor to treat a specific condition. Recreational cannabis is used by adults without a prescription, often in an attempt to relax or reduce stress. CBD is often viewed as "the medical cannabinoid" due to its wide variety of potential benefits and the fact that it isn't psychoactive like THC.
Every state's laws differ regarding the rules and regulations for cultivating, processing, manufacturing, and retailing cannabis products. There are some common trends, though. 
Medical cannabis users often have higher purchase and possession limits.
In most states, medical cannabis patients can access legal cannabis at the age of 18, while recreational cannabis laws often restrict cannabis to people over 21.
Additionally, medical card holders in some states are able to cultivate more plants, purchase products with higher concentrations of THC, and may be exempt from some taxes.
Medical vs. Recreational Weed: THC and CBD Levels
The available products – and the concentrations of THC and CBD in those products – can vary greatly between states. Likewise, recreational and medical cannabis consumers may not have access to the same THC and CBD levels.
In some states, the amount of THC allowed in edibles and concentrates is limited for recreational users. Medical products don't always have the same restrictions, and med patients may be able to access products with 5 to 10 times the THC and CBD levels of a similar recreational product.
This isn't always the case, nor does it hold true for all products. A group of researchers studied the THC levels between medical and recreational dispensaries and found that the amount of THC found in cannabis flower was roughly the same.¹
In addition to general product potency, medical cannabis products may offer consumers a wider variety of CBD-to-THC ratios (eg 1:1, 2:1, 10:1, 20:1, and more). Products with unique cannabinoid ratios may be available to recreational users, but they tend to be much more common in medical cannabis dispensaries, giving an MMJ patient more options for treating their condition.
Medical vs. Recreational Weed: Legality
As of late 2022, there are 37 states with medical marijuana laws. A total of 21 states have now passed recreational cannabis laws that allow adults over 21 to purchase and use cannabis. Maryland and Missouri both voted to legalize recreational cannabis in the 2022 election.
Type
Legal
Illegal (or Low-THC Program Only)
Medical cannabis
Alabama
Alaska
Arizona
Arkansas
California
Colorado
Connecticut
Delaware
Florida
Hawaii
Illinois
Louisiana
Maine
Maryland
Massachusetts
Michigan
Minnesota
Mississippi
Missouri
Montana
Nevada
New Hampshire
New Jersey
New Mexico
New York
North Dakota
Ohio
Oklahoma
Oregon
Pennsylvania
Rhode Island
South Dakota
Utah
Vermont
Virginia
Washington
Washington D.C.
West Virginia
Georgia
Idaho
Indiana
Iowa
Kansas
Kentucky
Nebraska
North Carolina
South Carolina
Tennessee
Texas
Wisconsin
Wyoming
Recreational cannabis
Alaska
Arizona
California
Colorado
Connecticut
Illinois
Maine
Maryland
Massachusetts
Michigan
Missouri
Montana
Nevada
New Jersey
New Mexico
New York
Oregon
Rhode Island
Vermont
Virginia
Washington
Washington D.C.
Alabama
Arkansas
Delaware
Florida
Georgia
Hawaii
Idaho
Indiana
Iowa
Kansas
Kentucky
Louisiana
Minnesota
Mississippi
Nebraska
New Hampshire
North Carolina
North Dakota
Ohio
Oklahoma
Pennsylvania
South Carolina
South Dakota
Tennessee
Texas
Utah
West Virginia
Wisconsin
Wyoming
Cannabis remains illegal on the federal level as a Schedule 1 substance, but President Biden publicly acknowledged that the classification should be reevaluated. Multiple members of congress are also actively working toward federal legalization, and several proposed laws could move cannabis legislation forward.
While the above states have medical cannabis programs, they all have their own laws. For instance, some states allow medical cannabis, but only low-THC products below a certain threshold. And in some states, medical cannabis patients are surprised to hear that their state doesn't allow patients to smoke cannabis flower.
Medical vs. Recreational Weed: Cost
The price of cannabis varies wildly from state to state, and like anything, the prices fluctuate with the market. And while there is less fluctuation in the cost of medical vs recreational cannabis products' retail prices, that doesn't mean consumers are paying the same.
Some states tax medical cannabis and recreational cannabis at vastly different rates, with medical card holders saving up to 20% over recreational consumers (actual tax savings and exemptions may vary).
The following table represents the base cost of products only and doesn't account for tax savings that medical patients may receive. Check our breakdown of each state's laws and regulations to learn more about how much you can save on taxes in your area.
| | | |
| --- | --- | --- |
| Product type | Medical | Recreational |
| Herbal cannabis (buds and flower) | $5-$20 per gram | $5-$20 per gram |
| Cannabis concentrates | $20-$60 per gram | $20-$120+ per gram |
| Edibles | $2-$5 per 5-10mg dose | $2-$3 per 5-10mg dose |
| Topicals | $25-$60 | $25-$60 |
| Tinctures | $15-$100+ depending on concentration | $15-$120+ depending on concentration |
| Vape cartridges | $15-$80 depending on amount and concentration | $15-$80 depending on amount and concentration |
Medical vs. Recreational Weed: Availability and Accessibility
In states that have both medical and recreational access to cannabis, med patients tend to have access to larger menus and higher-potency products.
Medical cannabis patients may also gain access to other states' medical cannabis programs while traveling. Not all states have these reciprocity programs, but in the ones that do, medical cannabis patients can legally purchase cannabis when recreational users may not be able to.
Source:
¹ Cash, Mary Catherine, et al. "Mapping Cannabis Potency in Medical and Recreational Programs in the United States." PLOS ONE, vol. 15, no. 3, 26 Mar. 2020, p. e0230167, 10.1371/journal.pone.0230167.