Traveling can be complicated as a medical cannabis patient. As of 2022, 38 states and Washington D.C. have medical cannabis programs. There are 21 states that have legalized recreational cannabis. And all of them have their own unique laws, which can leave medical cannabis patients to wonder; "Can I use my medical card in another state?"
At present, the answer is more complicated than it needs to be.
First, all medical cannabis patients need to be aware that traveling across state lines with cannabis is illegal anywhere in the U.S. Crossing state lines in possession of cannabis – even if you are holding a medical marijuana card – is considered federal drug trafficking. That means that you'll need to leave your medicine at home when traveling and try to legally obtain cannabis at your destination.
But how easy is it for medical cannabis patients to purchase marijuana while traveling?
Some states have reciprocity laws that allow med card holders from other states to purchase cannabis in their dispensaries.
Other states have temporary or visitor medical cannabis cards that allow people who aren't permanent residents to access the state's medical cannabis dispensaries for a short time.
And in states where adult-use cannabis is legal, medical patients can access the state's recreational market.
Then, there are states with active medical marijuana programs but only allow access to in-state residents.
It's important to remember that your out-of-state medical cannabis card is not going to protect you from legal action in states that do not have reciprocity laws. It also goes without saying that a medical cannabis card will not do anything for you in states without medical cannabis programs.
Because of federal prohibition, many medical cannabis patients are unfortunately left without their medication when traveling out-of-state. So before taking your next trip, it's always best to plan ahead. Do your research. Understand your destination state's laws and regulations around medical cannabis. And keep scrolling to learn more about when and how you can use your medical card in other states.
Ways Out-of-State Visitors Can Get Medical Cannabis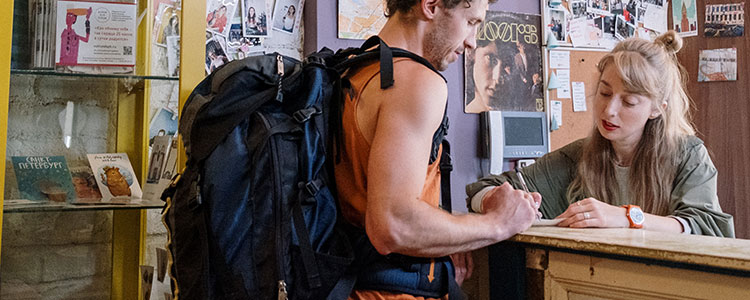 Even if a state has medical marijuana, it doesn't mean visiting patients are guaranteed to have cannabis access. There are three main ways that out-of-state cannabis patients can access medical cannabis legally.
Reciprocity
Temporary in-state cards for visitors
Adult-use (recreational) sales
In some cases, states have decriminalized possession for patients with valid out-of-state cards, but they aren't permitted to participate in the marketplace, prohibiting the person from making legal purchases.
For many traveling patients with med cards, the lack of clarity on cannabis laws can make it tempting to ask a local friend to buy for you (or to bring your own cannabis across state lines). Rather than risking criminal penalties using these methods, it may be best to see if the state you're visiting offers reciprocity, temporary med cards, or if it has a legal gifting policy where you can obtain cannabis using a few extra steps.
What Is An Out-of-State Patient License?
While not every state is willing to recognize another state's medical marijuana cards, some are willing to temporarily certify visiting patients themselves. These states generally require the visiting patient to see an in-state doctor and complete a similar certification process to a resident seeking a permanent license.
Out-of-state licenses aren't always practical for short trips, but they're excellent for patients seeking treatment in another state or anyone who plans to take an extended stay. Out-of-state licenses are geared primarily toward patients seeking medical treatment in another state. They also may be an option for patients staying long-term in another state for another reason, like staying with family or attending college.
Most out-of-state licenses are only valid for a few weeks to a few months. This can make them practical for temporary stays, but they're not a long-term solution.
Can I Use My Medical Marijuana Card in Other States?
Some states have medical cannabis reciprocity laws. Reciprocity laws are a state's way of acknowledging another state's medical cannabis program and honoring the cards issued by that state in some way. When traveling to a state with reciprocity laws, there's a good chance that med card holders can access that state's medical cannabis program in some form.
Reciprocity laws aren't usually without limitations. Most states seek to limit reciprocity so the system can't be exploited. For example:
Most states only allow reciprocity for a limited amount of time, after which the patient must join the state's program as a resident.
Some states only allow reciprocity for patients with similar qualifying conditions to their own.
Some states only offer reciprocity to patients with state-issued medical marijuana ID cards (as opposed to a doctor's recommendation or prescription).
And some states require that the address on the patient's state-issued ID matches the address on their medical marijuana ID.
As a result, it's a good idea to research the limitations on reciprocity in the state you plan to visit.
(Reciprocity) Medical Cannabis States That Allow Cannabis Sales to Out-of-State MMJ Cardholders
The following states and territories have legalized medical use for their citizens and visiting patients with valid cards from their home states (with some caveats).
| | |
| --- | --- |
| State | Reciprocity |
| Louisiana | As of 8/1/22, medical marijuana patients from other states can purchase medical marijuana in Louisiana. Patients must show their state-issued registry ID card, or its equivalent. |
| Maine | Conditions must be similar to those listed in Maine's program. Patients can also use the adult use market. |
| Michigan | Dispensaries can choose to accept or reject out-of-state cards. |
| Nevada | Accepts all out-of-state cards. Adult use is also permitted. |
| New Hampshire | A visiting patient's condition must be on New Hampshire's list of approved medical conditions. |
| New Jersey | Out-of-state cards are accepted for those visiting for up to six months. Adult use cannabis is also permitted. |
| New Mexico | A recent court ruling allowed reciprocity in the state for consumers with a state-issued medical marijuana ID (not just a doctor's recommendation or prescription). Adult use cannabis is also permitted. |
| Puerto Rico | Accepts out-of-state cards for patients 21 and over. |
| Rhode Island | Accepts out-of-state cards for patients with a debilitating medical condition, with a registry identification card (or its equivalent). |
| Washington D.C. | Accepts out-of-state cards from 35 of the 37 states with medical cannabis programs. |
(Temporary In-State Med Card) Medical Cannabis States That Require Out-of-State Patients to Apply for a Temporary Card
The following states don't recognize out-of-state medical cards, per se. Instead, patients need to apply for a temporary card while visiting. These states are:
Mississippi's cannabis legalization effort was thrown out in 2021. While the legislature has since passed a more restrictive bill that may allow temporary cards for out-of-state visitors, the regulations have yet to be written.
States with Adult-Use Recreational Cannabis Sales
The following states have legalized adult use regulations, allowing visiting patients aged 21 and over to purchase cannabis:
Alaska
Arizona
California
Colorado
Connecticut
Illinois
Maine
Maryland (rec sales expected to start in Jul 2023)
Massachusetts
Michigan
Missouri (rec sales expected to start in Feb 2023)
Montana
Nevada
New Jersey
New Mexico
New York
Oregon
Rhode Island (rec sales started in Dec 2022)
Vermont
Virginia
Washington
Washington D.C.
Guam
Northern Mariana Islands
Even though the above states have legalized recreational cannabis, that doesn't mean that visitors will necessarily be able to access medical cannabis when visiting. Some of the states do have reciprocity programs. For the others, visiting medical patients would be restricted to recreational dispensaries.
States with NO Cannabis Access for Out-of-State Med Patients
The following states do not allow reciprocity in any form. In some cases, the state enables visitors to possess cannabis, but no legal pathways to purchase it when in the state. Plan accordingly before visiting the following:
Delaware
Georgia (though sales are expected to start in 2023)
Mississippi: The State Supreme Court overturned voter-approved cannabis legalization in 2021. New regulations are being written.
Missouri: currently, visiting patients with a card from another state can possess cannabis but not purchase it in Missouri. BUT adult use cannabis sales are expected to begin in the first or second week of February, 2023.
Utah: Visiting patients with one or more of Utah's approved qualifying conditions can possess but not purchase medical cannabis while visiting.
Does California Accept Out-of-State MMJ cards?
California does not have any reciprocity laws, meaning the state doesn't accept any out-of-state medical cannabis cards. That means that medical cannabis patients visiting California will not have access to the state's medical cannabis dispensaries.
That said, California does have an adult-use recreational cannabis market. Patients over 21 visiting California can always visit the state's recreational dispensaries while in the state.
How Can I Get a Medical Marijuana Card?
The application process for medical cannabis is different in each state, but the basic steps are the same, and NuggMD makes the whole process even simpler.
Sign up on NuggMD.
Talk with your state-licensed doctor about how medical cannabis can help treat your qualifying medical condition.
Receive your medical cannabis recommendation and register with your state.
Every state has different qualifying medical conditions, and it can help your evaluating doctor if you have existing medical records to verify that you do suffer from the condition. You'll also need to show proof of residency for your state, like your driver's license.
Get Your Medical Card Online
Get approved today in minutes with the nation's #1 trusted medical card provider.
No appointment needed. Only billed if approved.
Conclusion
If you're a medical cannabis patient, it's always best to check the laws where you plan to travel. Be sure to consult reputable sources, like the state's government websites.
This article is not intended to replace legal advice, medical advice, a diagnosis, or treatment. Consult a medical or legal professional with questions or concerns about legality or medical questions.