If you're a weed enthusiast, you might already have an opinion on Tommy Chong. Hell, you probably love the guy, we sure do. He's as close as conceivably possible to being canonized the official patron saint of stoners. But even if you're not a weed aficionado, you know him as one-half of the iconic '70s & '80s stoner comedy duo, Cheech & Chong.
And like many other popular public figures who indulge in the herb, he's come out with his own line of cannabis products. We gotta say, watching this industry explode with innovation and competition is thrilling, and Tommy's line of products is a potent addition to the mix.
In this detailed Chong's Choice review, we'll examine the who, what's, when's, where's, and why's of Chong's products so that you can decide for yourself whether they're up your alley, or if you should pass on that green.
Why Did Tommy Chong Start a Cannabis Line?
The only surprising thing about Chong launching his own brand of cannabis products, Chong's Choice, co-founded with his son, Paris Chong, in 2015, is that he didn't do it way sooner. With a name as recognizable in the world of cannabis as Tommy Chong, his products have some pretty big shoes to fill.
Perhaps to make up for lost time, Chong Choice's array of products—flowers (solid in individual eighth jars), pre-rolls, vaporizers, vape cartridges, and edibles—is specialized, diverse, and initially offered in the three classic strain types: sativa, indica and hybrid.
Not only did Tommy Chong inevitably become a pro-cannabis activist due to his pioneering roles in the stoner comedy genre, but also because he has survived two bouts of cancer (prostate and bowel), which cannabis has personally helped him overcome when combined with traditional treatments.
Chong's come a long way, and in our eyes, has done a lot of good for the industry. But his claim to fame hasn't been without its hiccups.
In 2003, a government sting that focused on drug paraphernalia targeted a glass pipe and bong company owned by Paris, which ultimately sent his father Tommy to jail for nine months (possibly to make an example out of him since he's highly visible in the cannabis world), included a fine of $20,000 and the forfeiture of almost $120,000 in assets, not to mention the loss of the domain name, tommychong.com.
Of course today the laws surrounding marijuana and its paraphernalia are far more lax and are growing more so every year, meaning that Chong's Choice is unlikely to face the same criminal persecution its namesake did more than ten years ago.
Chong's Choice Product Line
1/8th Flower Jar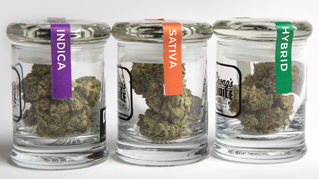 Paris has taken an active role in Chong's Choice strains, selecting the bud varieties used in their products alongside his father. Strangely enough, no official source lists the specific strains utilized in each of Chong's Choice's sativa, indica and hybrid offerings.
These eighths are sold in individual, reusable glass containers, which look great and are a far more attractive alternative to the sterile-looking prescription bottles that are the default at most dispensaries.
A SFGate review lists My Friend Jack, Chong Daddy Purple, and Chong's Choice OG Kush as the strains utilized in each cannabis product; The Cannabist lists Durban Haze, Blue Dream and Grape Stomper; and the Shango line of dispensaries in Nevada, Oregon and Washington seems to sell a sativa called Bruce Banner unmentioned elsewhere.
This variance is probably due to the fact Chong's products are available in multiple states, and different suppliers provide different strains for the brand.
It could be that they cycle through different strains from harvest to harvest, or simply alternate strains depending on the marketplace, since they're currently distributing to dispensaries in six different states (Arizona, California, Colorado, Montana, Oregon and Washington).
The only verbiage pointing toward a definitive answer on the official website describes all of their bud as locally grown and sourced; so for now you'll have to consult your local dispensary for accurate information.
Even still, hopefully we'll get some clarification sooner or later as to which strains are available where. After all, what we as consumers need is more transparency, not less, about what's in the products we're consuming.
Here's what we do know about Chong's Choice's flowers: they get the job done.
Possibly due to the commitment by Tommy and Paris Chong to never charge a premium price for their products, these aren't quite top shelf buds by our standards, but to most customers this will hardly matter.
Chong's Choice's buds are great, and come trimmed and dried to perfection. All signs point toward lots of care being put into building a quality product.
Pre-Rolled Joints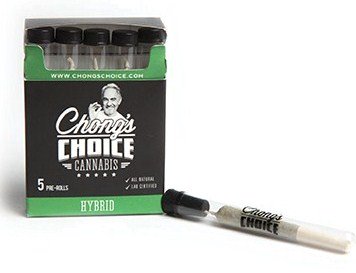 Each Chong's Choice pre-roll contains 0.75g of cannabis and is individually packaged in its own plastic tube to keep it fresh. Joints are sold in packages of five that resemble a bizarro pack of cigarettes, which may very well become the norm as legalization hits more parts of the country.
Its sleek and attractive design keeps joints from drying out and also makes transportation easier. Chong's iconic face is even printed on the papers, which you'll find just above the filter.

The joints hit cleanly and smoothly, possibly at the expense of their strength. They taste light and herbal, and will leave you with a mild and pleasant high. Since they come five to a pack, it puts more power in your hands when it comes to dosing by making it possible to smoke one joint for a milder effect, or hold a multiple joint smoke sesh for increased potency.
Vaporizer Cartridges
Chong's Choice CO2 vape cartridges contain half a gram of solvent free oil, and like their other products, is sold in sativa, indica and hybrid varieties.
Though they don't stand out in a market currently over-saturated with vape products, they get the job done, and come with the same assurance of quality that's guaranteed by the Chong's Choice brand. It won't dethrone your go-to cartridge, but it's a competent option when buying blindly or on a budget.
THC Breath Strips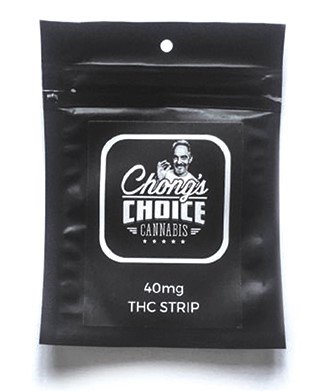 This is the only one of Chong's Choice's products to not offer its strain variety. The extract used in the breath strips is most likely a hybrid, meaning that this single edible offering covers the most ground possibly by not leaning too heavily into sativa or indica.
The most appealing aspect of this product is, of course, its discreteness. In this regard they're perhaps unparalleled, due to their small size and ease of consumption, which anyone who's tried a Listerine strip is familiar with. Each strip contains 40mg of cannabis, so expect a somewhat formidable high unless you're a seasoned smoker. Strips are available in individual mylar bags and multi-strip cartridges.
We gotta say, this is an incredibly innovative product, and they hit a rome run with it.
Infused Chocolate Bars

The brand has recently teamed up with Défoncé Chocolatier, a stylish boutique edibles company based here in California (défoncé's French for "high"), to produce a line of five distinct chocolate bars: Cereal Bowls (white chocolate and cinnamon with marshmallow cereal), Crunch Muniches (milk chocolate, caramel and potato chips), Dark Daze (dark chocolate), Mellow Milk (milk chocolate), and Wake 'N' Bacon (wafer dark chocolate, bacon, and maple syrup).
For now, these artisanal edibles are only available in California, and can be found at your nearest dispensary by searching on our cannabis marketplace, Nugg, where we've helped over 100,000 people get cannabis delivered quickly & easily.
Herbalizer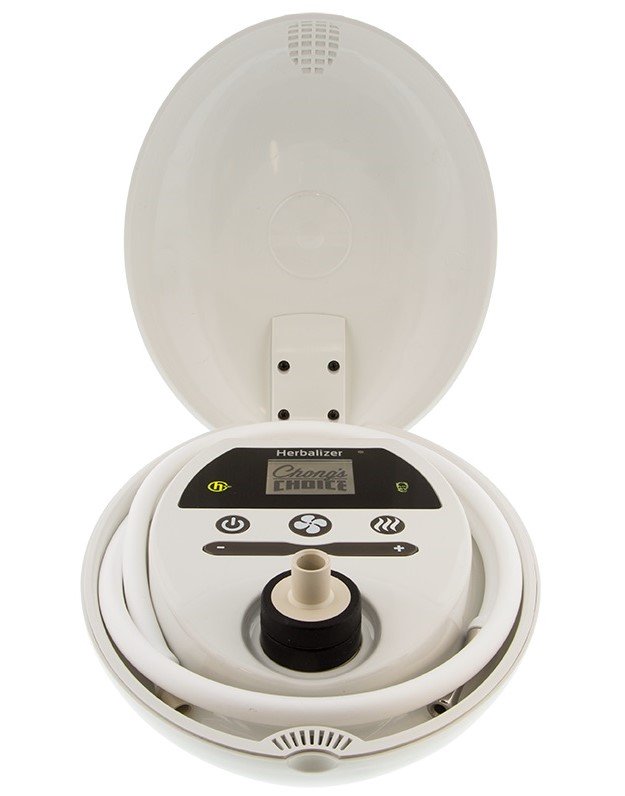 At first glance the Chong's Choice herbalizer looks like it's more suited for aromatherapy (which it can also be used for) than vaping. Unlike the portable TC models, this larger, stylish egg shaped device is best for home use and group 4:20 sessions.
It has easy-to-use buttons and a bright digital screen allows you to accurately adjust the temperature to meet your preferred strength. It also comes with an interchangeable silicon whip and four squeeze valve balloons (just like a Volcano vaporizer).
While we've yet to try this product out, we've heard good reports on it so far. But at $499, it's quite the investment. It's also worth nothing that Chong's brand simply partnered up with Herbalizer, the company behind the product, to offer a custom-branded version.
TC-3 Vaporizer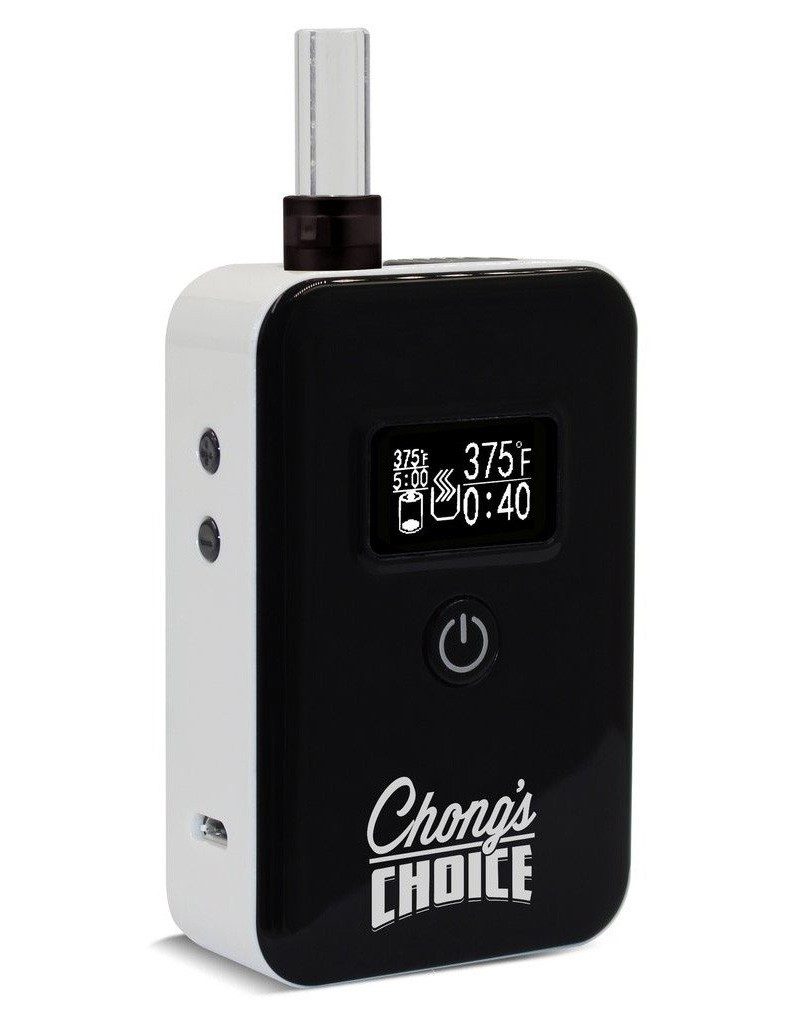 This dry herb vape is a more portable version of the herbalizer. Like all Chong's Choice vaporizers, the TC-3 vaporizer provides clean, healthy hits, adjustable temperature control, a fast heating chamber and long lasting battery ideal for when you're on the go. Plus it automatically turns itself off after 5 minutes, so you won't waste the battery.
Unlike some vapes, you don't need to press anything to take a hit, but you do need to press the power button fives times to activate it, which could be tricky and frustrating for some. Like, why five times? Why not three?
It's available in three colors: black, green, and pink (for the ladies) and comes with a black case.
At $139, the Tc-3 is much more affordable than the Herbalizer. But then again, this serves for your on-the-go functions as opposed to relaxing at home.
TC-1 Vaporizer
Chong's Choice TC-1 vaporizer is a slightly cheaper, thinner and sleeker version of the TC-3 that includes the same basic features, except that it has a smaller OLED screen and a picture of the man himself on the device. Just set the temp (Tommy recommends 420°F), wait 10 to 30 seconds for it to heat up, and enjoy. It also comes with a convenient carrying case, along with flat and glass mouthpieces, dab tool, cleaning brush, and charger. Available in black, white, and red.
Compact Herb Grinder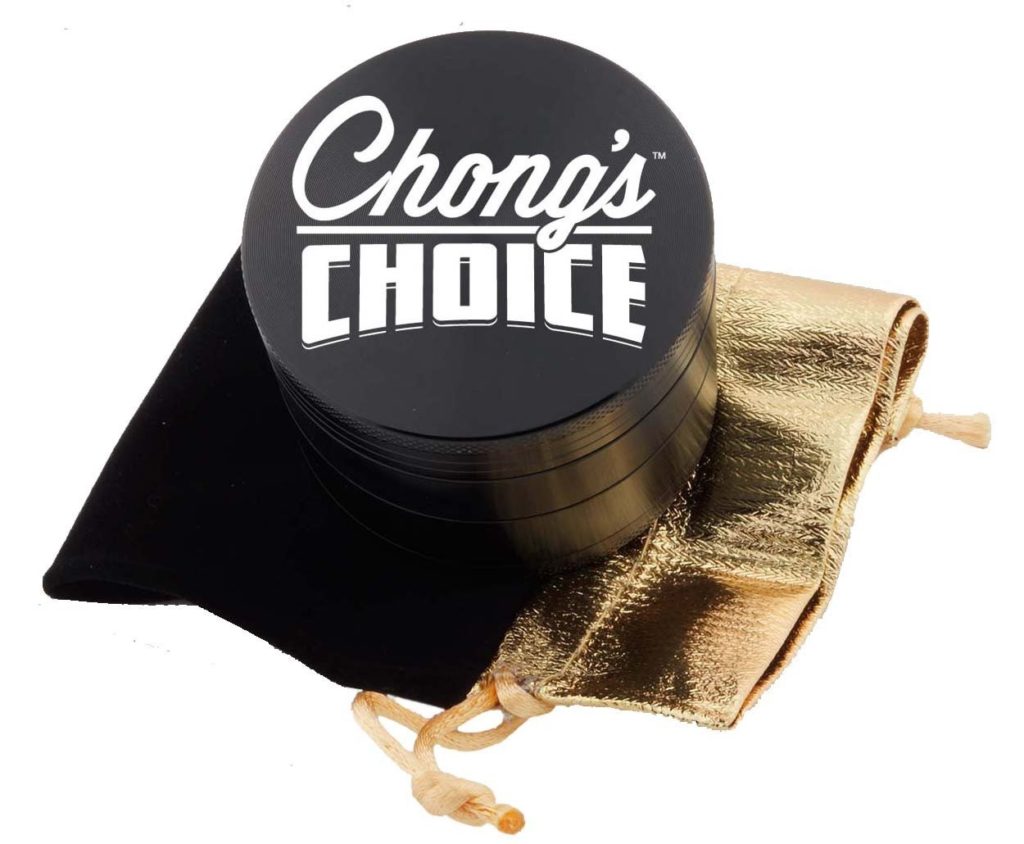 The product line wouldn't be complete without a solid grinder to break up your Chong's Choice flowers. This $25, small, durable, 4-piece aluminum grinder contains sharp metal teeth to ensure the finest ground weed that'll burn evenly and last longer. Plus its mesh bottom piece catches all the kief/pollen to maximize the most out of your eighth.
Where to Buy Chong's Choice
Where can you find Chong's Choice nearby? You could go to their website to find retailers in your area, but that's all you'll find. Instead visit Nugg, the largest medical marijuana online delivery marketplace in California, to find a variety of their products from dispensaries in your area and compare prices!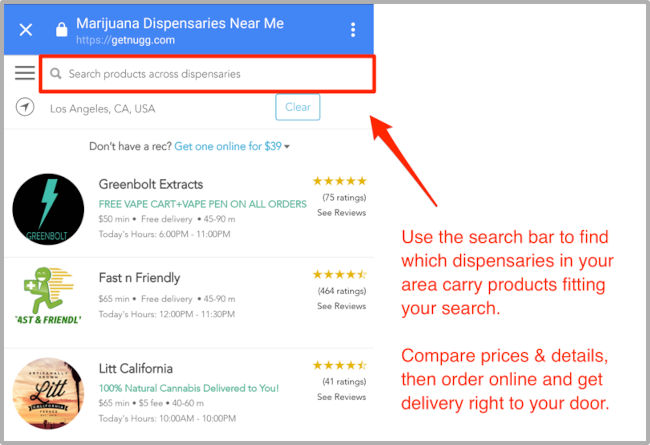 Then with just a few taps from any internet-connected device, order Chong's products straight to your doorstep from whichever dispensary in your area carries them!
Don't have a rec or med card to legally purchase cannabis in California? No problem, because NuggMD allows you to get one in 15 minutes or less from your mobile device! And if you use NuggMD you'll automatically receive $20 credit on your first Nugg order!
Final Nugg Rating
Effectiveness: 4/5
These products get the job done with no major fuss.
Strength: 3/5
Smokers looking for extremely high potencies won't find them in Chong's Choice, but this means that lower strengths will welcome to a wider range of Cheech & Chong fans or any curious customers.
Flavor: 4/5
Unless you happen to enjoy an overpowering dank, cannabis-heavy flavor, these products are pleasant to consume.
Cost: 3.5/5
While the company remains committed to affordability, their products are still in the upper price range, which may or may not be justified depending on the customer.
Overall
It seems Tommy Chong is of two minds with his products: appeal to seasoned smokers with high quality offerings, and welcome new smokers with simple and unfussy products.Thankfully, no major sacrifices were made on either end, and the final result is ultimately a line of competent and uncomplicated products. As it very well should be, Tommy's face will now grace the shelves of dispensaries throughout the country as a marker of quality cannabis.
Customer Testimonials
"Let me tell you something: as someone with as high a tolerance as I have, I was shocked at how hard smoking this flower hit me. It was good. If you have a high tolerance I highly recommend [the hybrid and sativa] to get you back to a buzzy place…especially the hybrid. It creeps up on you." —Arend R.
"This is the real deal…don't let this little [TC-1 vaporizer] fool you…this son of a bitch puts out some vapor! Tommy Chong isn't going to put his name on something that ain't going to deliver"  —Derek W.