With all the cannabis oils available, you probably already know how difficult it is to find one that's potent, clean, tasty, and not too expensive.
Luckily, TetraLabs has created an oil that not only satisfies these criteria, and can be used in several different ways.
Interested? Keep reading below and you'll discover numerous PureGold oil products, how they're made, how they can help, how to use them, where to get them, and much more!
TetraLabs Backstory
TetraLabs started in 2008 as a research project dedicated to creating purified cannabis extracts through natural processes. Over time, the experiment grew to form a thriving collective as patients continually requested more and more of their PureGold cannabis oil.
The TetraLabs team strives for purity in their products, and they've achieved it by creating one of the cleanest, most effective marijuana oil available. The resulting liquid cannabis extract is featured in a variety of distinct products that can be used for dabbing, vaping, refilling vape pens, and even cooking, satisfying everyone's needs.
Unlike some vape extracts, it doesn't contain any additives or impurities like polyethylene or propylene glycol (which could have some harsh unwanted side effects if you're vaporizing it), making PureGold oil an ideal choice for medical marijuana patients seeking a strong, safe, ingestible product.
How Is PureGold Oil Made?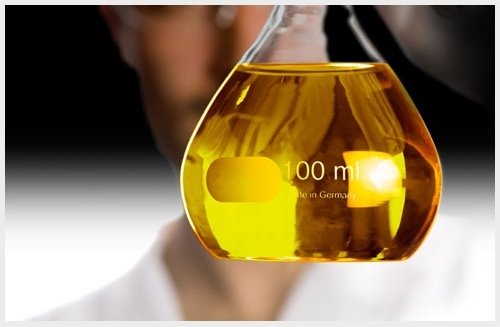 TetraLabs PureGold oil used in all products is derived from dried and screened sun-grown cannabis leaves that, unlike hemp leaves, yield a concentrate rich in THC and CBD, as hemp contains such small amounts of cannabinoids that using them medicinally or recreationally isn't beneficial.
A natural solvent like oil or grain alcohol is used to extract the cannabinoids along with 450-600 unwanted compounds from the plant material, finally reducing it into a pure, gold hash oil.
Hash oil usually contains about 50% cannabinoids and 50% unwanted compounds like tar, sugars, and waxes that can make it smell and taste unappealing after use. PureGold, on the other hand, is different, containing 95% pure cannabinoids and 5% therapeutic sesquiterpenes derived compounds.
The oil is then rigorously lab tested for quality control. By singling out the contaminants, impurities are removed one-by-one via heat, pressure, and centrifugation until only pure cannabis, sesquiterpenes and pigments remain. The entire process takes about forty steps and around three weeks to complete. Nothing added. Only extracted.
Of course, we mostly have to take the company at their word for this (like any other concentrate manufacturer based in California), since no regulatory framework exists yet for ensuring quality control and consistency of products.
But, once you get a taste of PureGold for yourself, there will be little doubt in your mind that this company is dedicated to producing one of the finest cannabis oils available today.
How to Use PureGold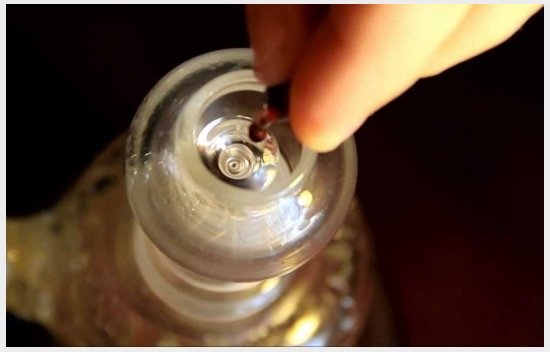 Depending on how you decide to medicate, PureGold oil can be used in different ways. It can be squeezed from the capsule onto the top of bud in a pipe or bong bowl, or inside of a blunt or joint. It can also be dabbed, vaped, and eaten.
This product as versatile AF, to say the least.
Usually 2-3 drops or puffs from a vape should create a high that lasts 1-2 hours, but the amount you take depends on your medical condition being treated, your tolerance to the oil, and how you consume it.
If dabbed, the effects can be more intense than just vaporizing. If you choose to drop this stuff on your flowers though, expect less of a result as it's not being heated to the proper temperature that produces maximum effect.
Available in Several Forms
As we alluded to in the last section, this versatile pure, gold oil comes in gel capsule, squeeze tube, pure THC liquid, and cartridge forms. Each PureGold product has its own potency and beneficial cannabinoids like THC & CBD. Below you'll find a basic overview of each concentrated oil product.
Vape Pen & Cartridges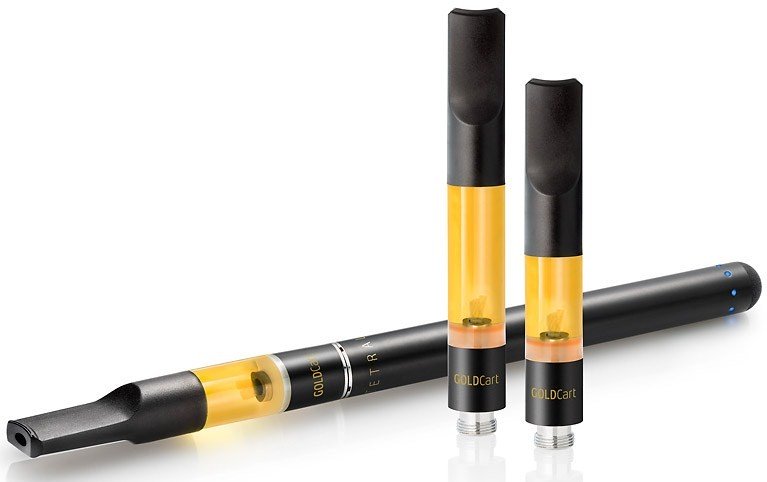 GoldPen with 0.75g GoldCart THC ($110): if you're a new patient also in need of a portable vape pen then this package is perfect for you; it's healthy, effective, and ready to use right out of the box! Designed to fit easily in your pocket or purse.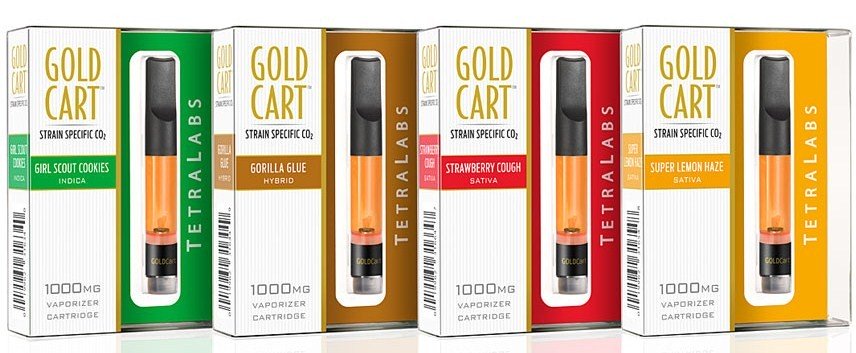 GoldCart THC ($40-70): these preloaded THC vape cartridges consist of 75% PureGold cannabinoid oil and 25% fruit extract to create tasty flavors like pineapple, spearmint, crème brûlée, earl grey, and classic (no added flavoring). Just recently the company released four new strain specific carts: Girl Scout Cookies, Gorilla Glue, Strawberry Cough, and Super Lemon Haze. All nine are available in 0.5g (250mg THC) and 1.0g (500mg THC) strengths.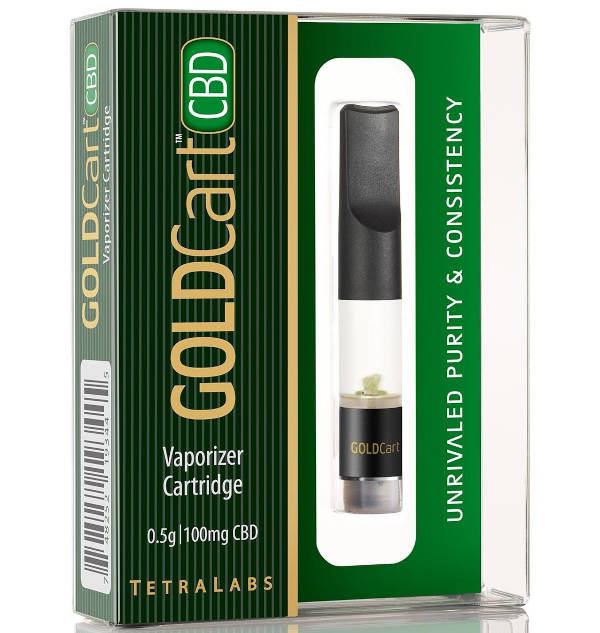 GoldCart CBD ($50-70): this pure, 0.5g CBD cartridge contains no THC and is non-psychoactive; it also contains a total of 100mg of CBD and lasts about 100-250 puffs.
For those of you not familiar with CBD-only products, all you have to know is that you won't get the typical "high" you associate with other cannabis products. Instead, you'll get the pain-relief, calming, mood-enhancing, and anti-inflammatory effects such that you might notice a slight change in your headspace, but rest assured, you won't find your mind on Planet Zorbog any time soon.
These cartridges are compatible with the majority of pens that use universal 510 threading.
Squeeze Tubes
‍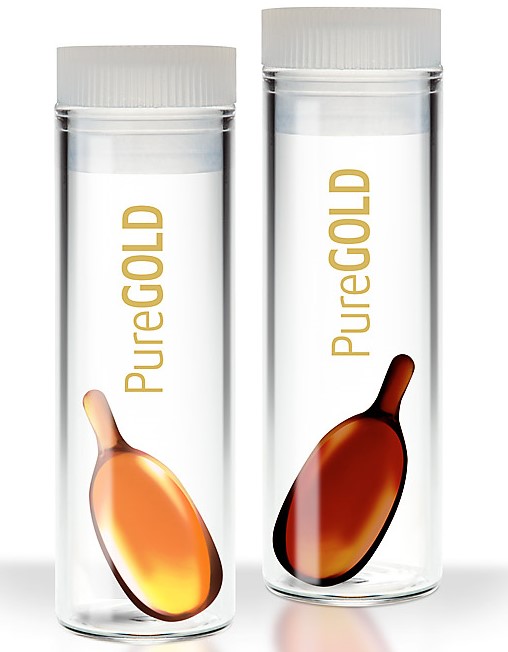 PureGold THC ($40): this 0.5g squeezable concentrate comes in a cannabis tube and contains a stronger THC extract that can be used for dabbing or refilling vape pens. It's available in PureGold Classic, a milder, lighter amber extract (400mg of THC), and PureGold Plus, a more complex, darker oil (500mg of THC) with terpenes added back to deliver a rich and robust taste.
The oil is packaged in a  gel capsule that can be easily be opened by cutting off the top nozzle and dripped into a vaporizer or directly onto marijuana. The capsules come in small quantities can easily be stored for later use.
Can you just swallow these gel capsules whole? Probably, but that presents a dangerous situation for dosing, and could most certainly put you on Planet Zorbog with you least expecting it.
Capsules
GoldCaps THC ($35-60): a blend of cannabis and grape seed oil (very healthy, as your vegan friends will tell you) that contains cannabinoids (THC, CBD, CBC and CBG). Bottles are sold in precise dosages of 10mg, 25mg, 35mg, and 50mg of THC per easy-to-swallow capsule. If that's not convenience at its finest, comment on this article and point us in the direction of a product you know to be easier to dose and apply. You won't find one!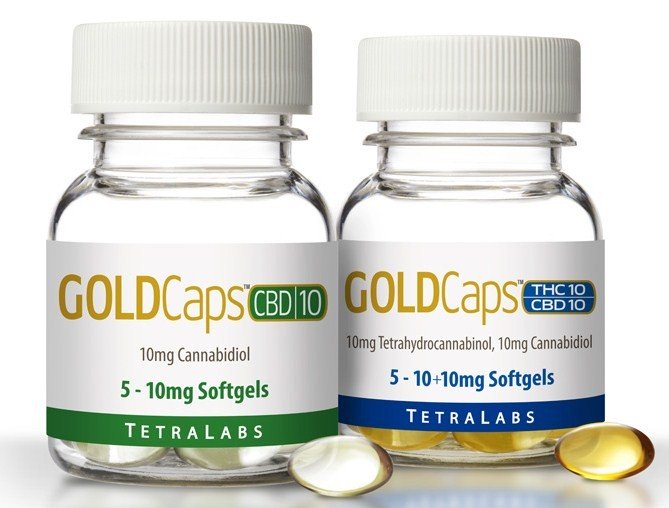 GoldCaps CBD ($35-45): available in ultra-pure CBD and equal CBD:THC strengths, these softgels come in dosages of 5mg and 10mg, much smaller than the THC pills; the equal CBD & THC capsules contain a balanced combo of 10mg CBD and 10mg THC.
Concentrated Cannabis Oil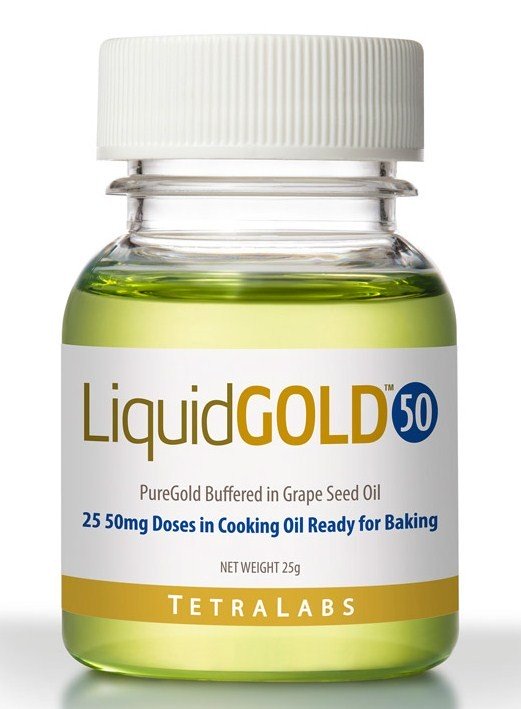 Liquid Gold ($N/A): this is the same liquid formula as the THC GoldCaps; it can be taken alone as a medicine or used as a substitute in baking and cooking, or just used as a topping to any food that needs an extra kick. Each 25g bottle comes with 1,250mg of liquid THC, enough to make 50 edibles (if that's your thing) that contain a 25mg dose of THC in each.
Benefits & Effects
PureGold oil contains THC, which has been found to relieve several minor, and even severe, conditions and symptoms. THC is well known as an effective analgesic and anti-inflammatory, but it can also treat chronic illnesses like ADHD, anxiety, bipolar disorder, epilepsy, fibromyalgia, gastrointestinal disorder, HIV, AIDS, multiple sclerosis, and a host of other conditions.
Since the final product is an intensely refined THC concentrate, this oil is safer to smoke than other products that aren't as filtered.
However, vaporizing is still considered to be healthier due to the lack of combustion, which goes easier on the lungs and gives a milder high. You only inhale the pure extracted cannabis concentrate that produces a light smell and thin vapor, making vaping more discreet and less fearful.
Depending on which PureGold product you choose, you'll also get a sizable dose of CBD, which produces similar physiological effects as THC (they're both cannabinoids after all), but won't contribute to any psychoactive effects you experience. In fact, preliminary studies show that combining THC & CBD is actually better than having just one or the other. They work in concert through what's known as the "entourage effect."
Additionally, consumers who prefer to avoid any psychoactive effects altogether that comes along with ingesting THC, have options. Just scoop up some CBD vape oil also made available by TetraLabs.
It's clear this company takes into consideration the wide variety of use-cases we cannabis lovers might have, which is something we have to applaud. We see only positive things ahead for this company.
Where to Buy TetraLabs' PureGold Oil
Dispensaries
PureGold oil can be purchased from medical marijuana storefronts or delivery-only dispensaries and collectives in California. In order to purchase any form of medical marijuana in California, you'll need a medical marijuana recommendation, which you can get easily (read below).
Nugg: The Online Cannabis Marketplace
Getting your rec and/or med card is incredibly easy thanks to our online medical marijuana evaluation service, NuggMD. You can go through the entire doctor evaluation process and get your recommendation in less than 10 minutes without even leaving the comfort of your own home.
You'll receive an instant electronic copy of your recommendation via email, and your official hard-copy (complete with doctor's signature, and raised embossed seal required by California dispensaries) will arrive in the mail a few days later.
You'll even get an instant $20 credit for your first cannabis delivery!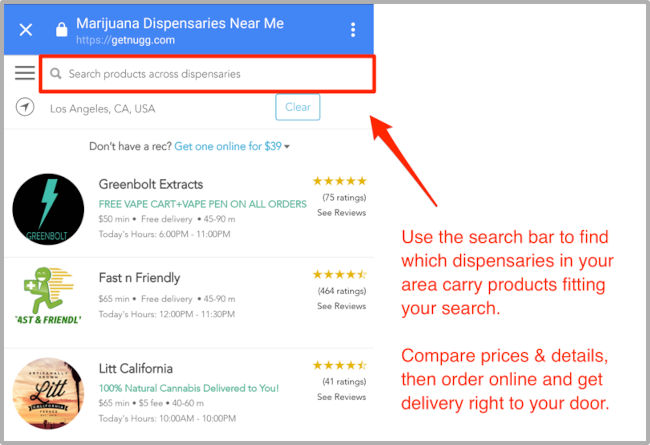 Once you're approved, you can use Nugg's online delivery marketplace to browse local storefront and delivery dispensary options, compare locations and prices, and ultimately order online from any and all dispensaries that will deliver to your home.
Yes, friends, we live in an age of instant-gratification & convenience, why should cannabis be any exception?!
TetraLabs Website
PureGold can also be ordered online directly from the TetraLabs website provide you pass a patient approval process. Once your info has been submitted the screening process usually takes 24-72 hours. Brands typically don't deliver products directly to patients, but because the company's also a collective they can legally deliver their own products to approved members.
Be wary of sites that claim to deliver medical marijuana without verifying documents, by mail (as opposed to personal courier) or across California state lines. These products are often inferior and their shipments illegal.
For a vape and dab concentrate that can be used a few different ways, PureGold oil products work phenomenally and taste great. Patients do have to pay a slightly premium price for them, but you can't put a price on your health.
What People Are Saying About PureGold Oil
"I'm a big fan of puregold and have always thought it was very potent in comparison to other extracts." —Alevin
"You pay for the quality, taste, smell, and the best high… I've used puregold to help treat nausea, insomnia, and anxiety. I always feel very calm and collected." —Dabbigail
"It seems to last longer for me than my average Cloud session as I've been hitting the 3-hour mark before the effects wear off noticeably." —G.R.