What you will learn in this post:
Even as adult use, or recreational, cannabis laws become more common, the medical market still plays an integral part for many reasons. Having a medical marijuana ID has primarily positive effects. Still, there can be consequences depending on the state.
This article will discuss the potential pros and cons for would-be med card holders and how cannabis laws may vary in your state.
Where are MMJ Cards Required?
As of June 2022, 39 states and Washington, D.C. have comprehensive medical cannabis laws on the books. With a lack of federal allowances, states have made their own rules. The result is a patchwork of laws and regulations, offering various levels of access.
Below is a list of current states with medical marijuana programs: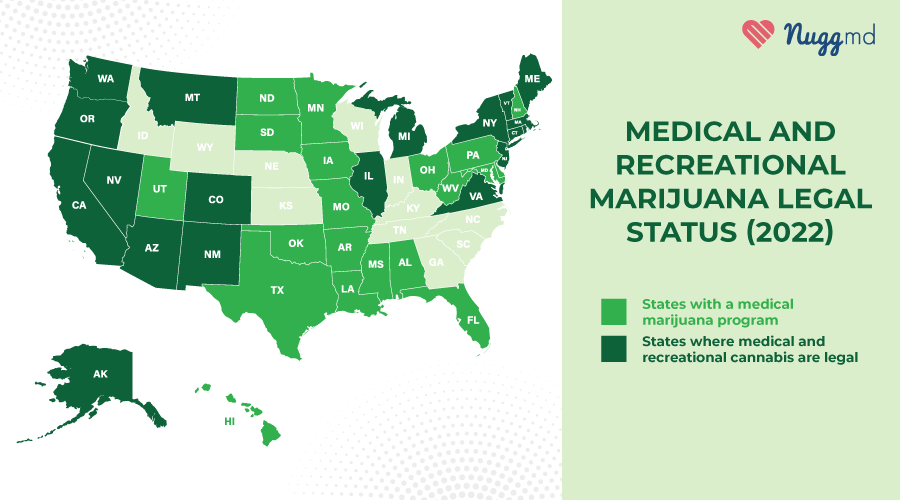 Additional states have allowed medical cannabis use but are often considered so restrictive on qualifying conditions, dosages and/or permitted products that these states are often not considered functioning medical marketplaces.
What are the Pros of Having a Medical Marijuana Card?
1. Priority
Certain states, like Illinois, grant priority cannabis access to their medical card holders. If the market ever faces a shortage, then medical patients can jump to the front of the line at dispensaries. Lawmakers decided to ensure that patients received medicine even under critical supply times. That case occurred during the early days of the COVID-19 pandemic when dispensaries were kept open in many states after being considered an essential business.
2. Legal protection
A medical cannabis card allows you to buy, possess and consume cannabis legally. Be ready to verify your qualifications. Like a driver's license, you need your card to participate in the marketplace legally. If you fail to have your ID on hand, you may face legal consequences depending on your state.
States like Florida can charge individuals with a second-degree misdemeanor for having cannabis without their med card. In Michigan, authorities can prosecute those found to be in possession of cannabis without their MMJ ID.
3. Lower cost
Legal cannabis can be expensive, especially in the recreational market. And for medical patients, the yearly medical marijuana card costs and higher tax rate in certain states add to the price burden.
Adult use consumers are typically subject to two or three tiers of taxes applied on cannabis purchases. Depending on the state and its laws, markets can tax cannabis on quantities purchased, product type, THC potency and other parameters. You can find a detailed state-by-state breakdown of cannabis tax codes as of May 2022.
Medical cannabis patients can avoid much of the tax burden, saving at least 5-10% in most states on every purchase. More specifically, several states completely exempt the medical market from paying retail and excise taxes since your use is medical, not recreational.
Learn more about potential savings by reading our handy guide: How Much is a Med Card? (And How Much Cannabis Do You Need to Buy to Offset the Cost)?
4. Higher potency
Physicians can prescribe higher doses of cannabis to medical cardholders who demonstrate a need for a more substantial medicine.
If an adult-use consumer wants a substantial dose of cannabis, they'll likely need to buy more products, thus driving costs up. That isn't always the case with medical consumers, who often are granted higher purchasing allotments and/or can buy higher concentration products made for medical consumers. Depending on state law, these products may contain higher doses of THC per package and dose than can be found at recreational dispensaries.
Products like high potency vape cartridges and edibles are more likely to contain higher doses for med patients, with potencies often hovering between 50% and 90%
5. Increased purchase limits
In addition to higher potency products, many medical patients can typically buy larger quantities of cannabis compared to recreational buyers. With this rule, patients can stock up and ensure they have the medicine needed to address their medical condition(s).
For example, in Arizona, medical cannabis patients can buy up to 2.5 ounces every two weeks, while recreational consumers can only buy and possess an ounce.
With each state having different rules, you'll want to understand what your state allows before buying. But, in the worst-case scenario, your Budtender will know and can help you.
6. Higher possession limits
Medical patients are allowed to store more cannabis at home and carry more on their person than recreational consumers. In addition to ensuring you have sufficient medication available, this also helps reduce the risk of having too much in your possession at any one time.
Consumers found in violation of their state's possession limits may face steep criminal penalties.
In New York, an adult use state, recreational users over the possession limit are subject to a Class E felony charge. They face a jail sentence of up to four years and fines reaching $5000.
Floridians face similar punishments in their medical-only market. Offenders face up to $5000 in fines and up to five years in prison if they're caught with 20 grams of cannabis or more.
In Texas, one of the most restrictive medical markets today, possession of 4 oz or more could result in felony charges, with a maximum 2-year sentence and $10,000 in fines.
Here is a breakdown of state-by-state possession limits as of June 2022:
| | |
| --- | --- |
| Alabama | 70 daily dosages |
| Alaska | 1 oz |
| Arizona | 2.5 oz every 14 days |
| Arkansas | 2.5 oz every 14 days |
| California | 8 oz |
| Colorado | 2 oz |
| Connecticut | 2.5 oz |
| Delaware | 6 oz |
| District of Columbia | 2 oz dried |
| Florida | 35-day supply |
| Hawaii | 4 oz |
| Illinois | 2.5 oz every 14 days |
| Iowa | 4.5 grams THC every 90 days |
| Louisiana | 1-month supply, case-by-case amount determined |
| Maine | 2.5 oz |
| Maryland | 30-day supply, determined by physician |
| Massachusetts | 60-day supply/10 oz |
| Michigan | 2.5 oz |
| Minnesota | 30-day supply (non-smokable marijuana) |
| Mississippi | 3.5 grams of cannabis per day, capped at six days a week/3 oz per month |
| Missouri | 4 oz dried flower per 30-day period |
| Montana | 1 oz |
| Nevada | 2.5 oz |
| New Hampshire | 2 oz every 10 days |
| New Jersey | 3 oz |
| New Mexico | 6 oz |
| New York | 60-day (non-smokable marijuana) |
| North Dakota | 3 oz every 14 days |
| Ohio | 90-day supply, amount to be determined |
| Oklahoma | 3 oz |
| Oregon | 24 oz |
| Pennsylvania | 30-day supply |
| Rhode Island | 2.5 oz |
| South Dakota | 3 oz |
| Texas | Determined by physician |
| Utah | 113 grams (unprocessed cannabis) |
| Vermont | 2 oz |
| Virginia | 90 day supply of extracts and botanicals |
| Washington | 8 oz |
| West Virginia | 30-day supply, amount to be determined |
After this article, learn more about cannabis sizes and prices and how long your purchase may last.
6. Increased growing limit
Several medical and adult use states have adopted home cultivation laws. The measure allows people to produce their own pot. And in many cases, medical patients are allowed to grow additional plants or seedlings. The move ensures consumers have access, and it likely saves patients some money in the process.
States to enact home grow laws include:
Alaska
Arizona (Medical-only)
California
Colorado
Hawaii (Medical-only)
Illinois (Medical cultivation only, not recreational)
Maine
Maryland
Massachusetts
Michigan
Missouri (Medical-only)
Montana (Medical-only)
Nevada
New Mexico (Medical-only)
New York (Medical-only)
Oklahoma (Medical-only)
Oregon
Rhode Island (Medical-only)
South Dakota
Vermont
Virginia
Washington (Medical-only) 
Check your state laws before starting your home cannabis grow. And start with our tips for how to dry and cure your home-grown flower.
7. Lower age restriction
In many states, minors can take part in the medical marijuana program with the consent of a parent or legal guardian.
The most commonly cited medical conditions for children include:
Cerebral Palsy
Chronic or intractable pain, when opioids do not appear to work
Epilepsy/Seizure disorders
Extreme nausea & vomiting
Extreme weight loss
Muscle wasting
Muscular Dystrophy (MD)
Sickle Cell-related diseases
Spina Bifida
Other terminal illnesses
Minors taking part in the program are almost always required to register at least one MMJ caregiver on their behalf. Depending on the state, a caregiver can grow, buy, transport and administer cannabis to the patient.
8. Reciprocity
Reciprocity is when one medical or adult use state accepts medical cards from other states – allowing visitors to receive their medicine while away from home. When traveling, medical patients may be able to access cannabis in the following states legally:
✔ Arkansas
✔ Hawaii
✔ Maine
✔ Michigan (if other state involved has MMJ program)
✔ Nevada
✔ New Hampshire
✔ New Mexico
✔ Oklahoma
✔ Rhode Island
✔ Utah
✔ West Virginia (For terminally ill patients only)
Washington, D.C. also offers reciprocity. Meanwhile, Colorado, which does not have a reciprocity program, does have its cards accepted in other states.
Another possibly perplexing component of reciprocity is the difference between buying and possessing. In some states, like Missouri, out-of-state patients can't buy cannabis but can legally possess it if they have their med card.
As of October 2021, this is how reciprocity laws look in the US:
| | | |
| --- | --- | --- |
| State | Possession reciprocity | Buying reciprocity |
| Alabama | No | No |
| Alaska | No | No |
| Arizona | Yes | No |
| Arkansas | Yes | Yes |
| California | No | No |
| Colorado | No | No |
| Connecticut | No | No |
| Delaware | No | No |
| District of Columbia | Yes | Yes |
| Florida | No | No |
| Guam | No | No |
| Hawaii | Yes | Yes |
| Illinois | No | No |
| Louisiana | No | No |
| Maine | Yes | Yes |
| Maryland | No | No |
| Massachusetts | No | No |
| Michigan | Yes | Yes |
| Minnesota | No | No |
| Missouri | Yes | No |
| Montana | Yes | No |
| Nevada | Yes | Yes |
| New Hampshire | Yes | Yes |
| New Jersey | Yes | Yes |
| New Mexico | Yes | Yes |
| New York | No | No |
| North Dakota | No | No |
| Ohio | No | No |
| Oklahoma | Yes | Yes |
| Oregon | No | No |
| Pennsylvania | No | No |
| Puerto Rico | Yes | Yes |
| Rhode Island | Yes | Yes |
| U.S. Virgin Islands | Yes | Yes |
| Utah | Yes | No |
| Vermont | No | No |
| Virginia | No | No |
| Washington | No | No |
| West Virginia | No | No |
What Are The Consequences Of Getting A Medical Card?
1. No firearms
Currently, the federal government considers any user of cannabis to be an unlawful gun permit holder. Gun stores are prohibited from selling or transferring guns or ammunition to license holders. This ruling is founded upon 2011's Federal Bureau of Alcohol, Tobacco, Firearms, and Explosives (ATF) decision. The ATF decision was supported by Wilson vs. Lynch in the 9th U.S. Circuit Court of Appeals.
Some states are pushing back against this federal policy. For instance, Texas openly states that medical marijuana patients aren't prohibited from owning firearms, although qualifying conditions like PTSD may preclude ownership if they could affect the patient's ability to exercise reasonable judgment. Missouri does not specifically mention marijuana use in their Second Amendment Preservation Act, but some lawyers argue that the statute protects medical marijuana users as well. This issue will likely be decided in the Supreme Court in the near future.
If you wish to purchase a firearm and are a medical marijuana patient, you should consult a qualified attorney first. Most states default to federal legislation on this issue and take no steps to protect medical marijuana patients' Second Amendment rights.
2. No commercial driver's license
Under federal law, the US Department of Transportation (DOT) does not allow commercial driver's license (CDL) holders to use Schedule I substances, including all forms of THC products. Commercial drivers are not eligible for an MMJ card. If they attempt to obtain one, they may lose their job and CDL license.
3. Not allowed for federal employees
Like CDL drivers, federal rules prohibit all government employees from using any Schedule I drug. Any federal government employee who uses or obtains a medical cannabis card could face potential job loss.
Federal government employees remain bound by the federal law that defines marijuana as a controlled substance at the national level, which means government employees can't be MMJ card holders.
Federal employees and CDL license holders could see their prospects change if federal regulations were to pass. The MORE Act is one such bill that would decriminalize cannabis on the national level by removing it from the list of controlled substances. However, nothing has passed at this time.
4. Annual renewal required
In most medical cannabis states, patients must renew their med card every year or risk losing their spot in the program (and access to their medication).
The renewal process can be a bit of a burden, especially if your state does not allow digital telemedicine appointments. For some, the costs can also be a hurdle. If so, check with your state program before renewing to see if they offer financial assistance discounts or waivers. Just be sure to do so a few months before your expiration date, as some states may take 30-60 days to process your paperwork.
5. Bureaucracy
Each state has its own rules and nuances, and some states make the application process more difficult than others.
In general, MMJ patients in most states are subject to several bureaucratic processes that can be more than some consumers wish to deal with:
Requiring a qualified medical doctors recommendation
Applying for the state medical cannabis program
Providing your ID and personal details to register for the program
Thankfully, you may not have to wait for an in-person consultation to get started. Telemedicine, or online services, make the medical marijuana evaluation process convenient and seamless. With NuggMD, we've streamlined the process to connect you with a state-qualified doctor from the comfort and privacy of your own home.
Conclusion
Medical cannabis can be excellent. For many, it can be a pivotal component of their medical wellness regimen. But it isn't for everyone – particularly federal government employees, gun enthusiasts or CDL holders.
And unless state regulators protect their medical market, it can face rising costs and dwindling participation as recreational markets open. This has been the case across the nation, such as New Mexico, New Jersey and several other states when they began adult use sales.
Ready to find out if medical cannabis can work for you? NuggMD is prepared and eager to help you find out.